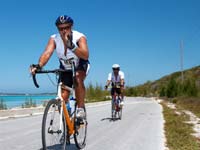 Eleuthera, Bahamas – 2011 Ride for Hope presented by Odyssey Aviation took place over the weekend and is in its 6th year.
This year the charity event had a record 550 riders participate on Saturday, April 9th  which was staged in Governor's Harbour, and the course stretched from Palmetto Point in the south, to Glass Window in the north.
Fund raising is ahead of previous levels at this point, with over $250,000 received already.  With the generous support of Odyssey and many other corporate sponsors, every dollar raised by our riders goes directly to the cancer programs supported by the Ride for Hope.
Bahamian women are particularly vulnerable to breast cancer as they have the highest prevalence of the BRCA1 genetic mutation that puts women at greater risk of breast cancer out of any population in the world.
Around 25 per cent of Bahamian women diagnosed with breast cancer carry the defective BRCA1 gene.
Genetic testing and regular screenings could prevent breast cancer from developing.
Ride for Hope's program focus is on education, research, early detection and treatment assistance.
Even Harbour Island celebrity India Hicks participated by raising $25,000 for the Ride for Hope. Hicks, the granddaughter of Lord Mountbatten and goddaughter of Prince Charles, the Prince of Wales, cycled 70 miles in memory of friend and active community member, Lynne Cleare, who recently died of breast cancer.
Partial Source: Stephen Holowesko
Co-Founder, Ride for Hope Bahamas