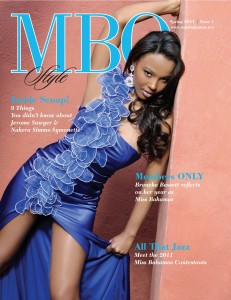 The newest venture of the Miss Bahamas Organization – MBO Style magazine – hit the shelves of bookstores and fashion boutiques throughout New Providence today. The first of its kind in The Bahamas, MBO Style magazine will keep readers up to date on all the happenings of the exciting lives of Miss Bahamas Universe and Miss World Bahamas. The quarterly publication replaces the pageant commemorative booklet concept with a sleek, contemporary, high fashion magazine which takes a look at what goes into the styling of a queen. However, MBO Style offers so much more. From beauty to fashion, health and fitness to people, places and more, each magazine will be a must read for fashionistas of all ages. The first issue features Miss Bahamas 2010 Braneka Bassett on the cover. Copies can be purchased at the following locations:
BOOKSTORES
Bookworld & Stationers – Market Street
Chapter One Bookstore – Oakes Field
Buy the Book – Saunders Beach
Hallmark – Mall at Marathon
Nassau Stationers – Rosetta Street
Logos Bookstore – Harbour Bay Shopping Center (coming soon)
FASHION BOUTIQUES
Signature Styles – Marathon Road
John's Shoes & Accesories – Rosetta Street
The 17 Shop – Collins Avenue
FOODSTORES
Phil's Food Services Ltd. – Gladstone Road (coming soon)
Solomon's Supercenter – Old Trail Road (coming soon)
BEAUTY SUPPLIES/SALONS
The Beauty Shack – Soldier Road (coming soon)
Yellow Strawberry Salon & Spa – Rosetta Street (coming soon)
More stores will be added in the near future and the magazine will soon also be available online. Be sure to get your copy today!