Harbour Island: Truly Bahamian Despite Celebrity Crowd
June 27, 2011
Jennifer Aniston, Cameron Diaz, Susan Sarandon, Robert DeNiro, Robin Williams, Sean Penn, Michael Bolton, Julia Roberts: Sometimes name-dropping seems a more popular sport than scuba diving and fishing on pretty little Harbour Island, an offshoot of Eleuthera in the Bahamas.
Some call it "the Aspen of the Bahamas." But although Briland, as locals shorthand it, sees its share of celebrity guests in designer resorts with accomplished chefs, it remains a true-true Bahamian settlement where the roosters wake you at dawn, and the fishermen bring their catches in to clean at the bayside dock a few hours later.
In the meantime, tourists and the island's affluent snowbird population flock to Arthur's Bakery for fresh coconut bread, a latte, banana pancakes, egg sandwiches and Wi-Fi.
At Valentine's Resort, wetsuit-skinned divers board boats that will take them to wondrous reefs, blue holes, wrecks and shockingly clear water. Name-dropping can't compete with diving at this resort, which has its own marina and dive shop.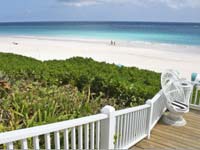 With modern condos in Bahamian-style buildings named for the different islands, Valentine's spreads along the island's bayfront — the working side of the island, if you will. Here in Dunmore Town, fast ferries from Nassau and water taxis from the main island of Eleuthera (just minutes away) deliver passengers to Government Dock on Bay Street.
Most rent a gas-powered golf cart, for that's the main mode of transport on the compact 5- by 1.5-mile island, although feet can get you almost anywhere you need to go. The island's famous 3-mile pink sand beach is never more than a 10-minute walk away. But that's the hoity side of the island.