Bahamas Wins At Taste Of The Caribbean
July 4, 2011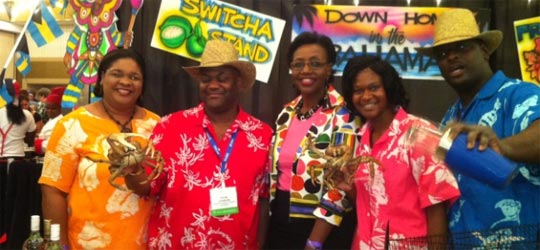 MIAMI, FL – With a proud Bahamas Consul General in Miami Rhoda Jackson looking on, Bahamian Chef Kevin Pratt won first prize for Most Innovative Dish during the 2011 Taste of The Caribbean Festival held in Miami, Florida, last week. Chef Pratt was a junior chef Team Bahamas, which won a Silver Medal overall, led by Chefs Jason McBride and Devin Johnson.
Chef Pratt, the second Junior Chef in a row to win the award for Most Innovative Dish, won for his Abaco Spice-Rubbed Beef and Pan Seared Exuma Scallops, Served with Nassau Sweet Potato & Plantain Cheesy Croquettes, Coconut Infused Warm Vegetable Slaw Accompanied by Eleuthera Pineapple Chutney finished with Andros Mango Reduction. Team Bahamas offered "a succulent array of dishes," including conch macaroni and cheese, crab cakes, chicken souse and Bahamian "switcha."  In addition to the team silver, The Bahamas won a number of individual awards, including Chef Pratt's noteworthy prize.
In the Certified Angus Beef Competition, sponsored by Certified Angus Beef, Bahamian chef Charon McKenzie won a Bronze Medal; chef Shaquine Bodie won a Silver Medal in the Seafood Competition; Chef Mychal Harris was presented with a Silver in the Caribbean Chef Medals; in the Caribbean Pastry Chef presentations, Chef Jamal Small won a Bronze Medal, and in the Caribbean Bartender Medal, Hugh Jones won Bronze.
The Bahamas competed against teams from Anguilla, Barbados, British Virgin Islands, Curacao, Jamaica, Puerto Rico, St. Lucia, Trinidad and Tobago and United States Virgin Islands.
Trade Seminar
The Bahamas Consulate General participated in a Trade Seminar organised by Small Business Development Centre, a division of the US Small Business Administration.  The Bahamas, along with representatives from Barbados, Jamaica, Haiti and Trinidad and Tobago outlined the various opportunities and incentives provided by their respective governments for the promotion of trade.  In addition to highlighting the changes with respect to the Bahamas Investment Policy, the Consul General informed of the recent improvement effort including the Nassau Road Project, the new Lynden Pindling International Airport and the Thomas A. Robinson Stadium.  The event was attended by some 120 small business owners seeking to expand trade with countries of the Caribbean.
Miami Welcomes New Consul General
In April, Consul General Jackson was welcomed to her post at a private dinner hosted in her honour by Miami Dade County Commissioner Audrey Edmonson (District 3), who is of Bahamian descent as was fellow guest Rachel Reeves, Editor of Miami Times, the oldest Black owned newspaper in South Florida. Ms. Edmonson hosted the dinner in order to reiterate the Commissioner's office support of the work of the Consulate.
BAIC Chair Calls On CG
Chairman of Bahamas Agricultural & Industrial Corporation (BAIC) Edison Key held a number of meetings in South Florida last month, among them a sit-down with officials from the Inter-American Institute for Cooperation on Agriculture (IICA) to discuss strategies for BAIC's newly implemented Market Information System and Training Certification programmes for the Food Processing Unit. Following those meetings, Mr. Key and the senior management team of BAIC briefed Ms. Jackson and the Consulate on the work being undertaken by BAIC to expand export opportunities for Bahamian made products, such as the cooperation between The Bahamas and Malaysia with respect to trade and the development of the coconut processing industry in The Bahamas.
Tour Of West Park
Ms. Jackson was also given a tour of the City of West Park by Commissioner Thomas Dorsett, a Bahamian who holds office in the city. Mr. Dorsett expressed a desire to host a large event for the Bahamians and those of Bahamian descent, who number about 5,000 in the City of West Park.  The Consul General stressed the need to engage these Bahamians to become active in the matters pertaining to the Bahamian community.
BTO Miami Focuses On Cyberspace
Kerry Fountain, General Manager of The Bahamas Tourist Office in Florida, and several members of his management team visited the Consulate to provide a briefing on the work of BTO in the United States.  Mr. Fountain stressed the use of "digital marketing" to reach potential visitors to The Bahamas, and cited several BTO objectives, including creating a destination desire and providing better access to information for those planning a vacation trip.
In addition to general leisure, BTO seeks to target various groups of persons through niche markets such as fishing/boating, sports, religious groups, weddings, diving and aviation.  BTO uses information gathered from immigration departure cards to determine areas of interest and provide past customers with additional information to encourage a return visit.
bBy K. Quincy Parker
Press Attache
Embassy of The Bahamas