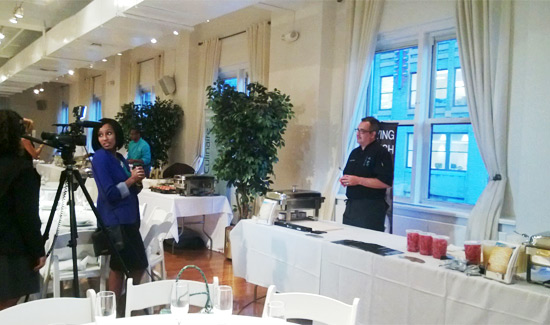 On August 6, Chef Tim Tibbitts of Flying Fish and the Ministry of Tourism took to New York City to represent the Bahamas in a Midtown loft as part of an elegant affair called RESERVEDnyc. – Chefs of the Caribbean.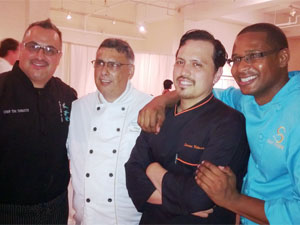 Hosted by Ocean Style magazine, this was an intimate affair, a culinary experience tailored for an audience with an appreciation for fine living and exquisite food.  The guests had the opportunity to feast on a wide array of different dishes and interact directly with the Chefs.
This chic event featured acclaimed chefs from New York city, St Lucia and the Bahamas.  There was a silent auction in benefit of the Caribbean Tourism Organization (CTO) Foundation and The American Friends of Jamaica Inc.
Before the event, the organizer OCEAN Style Editor-in-Chief, Douglas Gordon was quoted saying: "We are excited about the chefs that are participating.  Each chef will prepare and serve 2-3 exquisite dishes and guests will have the opportunity to interact directly with them. Our goal is to create an enjoyable, dynamic and engaging experience for the guests and chefs".
On offer from Chef Tibbitts to showcase the Bahamas was a modern take on conch salad with his specialty conch chicherone, our freshly-in-season warm water lobster tails with fondant potatoes, roasted cauliflower and oyster mushrooms, mango miso butter sauce.  DeAnn Gibson, Culinary tourism manager for Bahamas Ministry of Tourism, handled many of the logistics of participating in such a large event.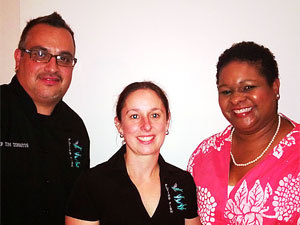 "We are pleased to be representing Flying Fish and the Bahamas as an event like this" says Chef Tibbitts.  "Putting our island and country on the map with great food and service is important.  We would like to thank the Ministry of Tourism for their support during the planning stages and the event".
Noted guests in attendance at the last event were, Third World front man, Cat Coore; actor, Leon Robinson; PR guru, Marvet Britto; fashion icon, Freddie Leiba; and celebrity stylist Phillip Bloch.  This year, renowned reggae and soca star Maxi Priest was amongst the food bloggers, writers and travellers enjoying the Caribbean fare.
This is the second event within the month that Chef Tibbitts has been asked to participate in to represent the Bahamas.