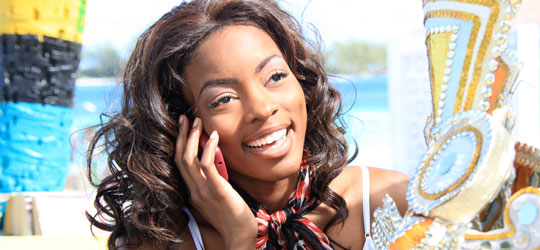 Removal of island-to-island mobile long distance fees and addition of 'call and text your way' feature comes just in time for Independence Celebrations
Effective today, BTC cellular customers have the freedom to call anywhere in The Bahamas without incurring long distance charges.
"For these customers, making a call from one island to the next will cost the same as calling their next-door neighbor. No long distance charges apply whether calling from one cell phone to another or from a cell phone to a fixed line," said CEO Geoff Houston.
Mobile users will also have the ability to call and text from their cell phone using seven, ten or eleven digits, making it much more convenient for BTC customers to call or text their business contacts, family and friends as they move through the islands.
"The removal of long distance charges for island-to-island cellular calls is one of the promises made as part of our commitment to improve customer service while reducing rates," Houston said.
"BTC is pleased to launch this first phase of rate reductions this week just in time for Independence. Being able to call anywhere in The Bahamas from a mobile phone without paying long distance charges helps to unite the entire country during this special time of celebrations."
According to Houston, the two upgrades go hand-in-hand.
"The reduction of mobile calling rates throughout the country and the new simplified calling and texting structure enable our cell phone customers to communicate how they want to, when they want to – whether it is for business or to family, friends or loved ones" he said.
"These new mobile upgrades are just the beginning of exciting changes we plan to implement with our new partner LIME in the months and years ahead."
While normal airtime charges still apply, mobile customers will be able to make island-to-island calls without the additional 18 cents per minute domestic long distance charge as of July 10. Charges for landline to landline, landline to mobile and international long distance still apply.
Mobile callers no longer have to store numbers used for texting and calling in separate formats. Customers can make calls or text to anywhere in The Bahamas using either seven digits (e.g. 225-5282), ten digits (e.g. 242-225-5282) or eleven digits (e.g. 1-242-225-5282).
"Simplifying our dial plan to allow customers to call or text from their mobile phone regardless of how the number may be stored is a huge convenience to every cell phone user especially persons who travel to the Family Islands frequently," Houston continued.