Maria Strengthens, Nate To Become Hurricane
September 9, 2011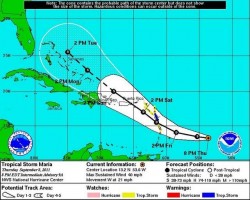 Tropical Storm Maria is forecast to strengthen, churning through the Virgin Islands today or tomorrow, the U.S. National Hurricane Center said in an advisory. Hurricane Katia may weaken in the Atlantic.
Maris weakened Thursday with forecaster predicting she could dissolve into a tropical wave before it reaches the Leeward Islands and Puerto Rico this weekend.
Now, forecasters at the National Hurricane Center caution against writing off Maria. A shift in track and the possibility that the storm could re-intensify in a few days raises the risk of impacts on Hispaniola, the Bahamas, possibly Florida or elsewhere along the Atlantic coast.
Meanwhile, Tropical Storm Nate is expected to become the third hurricane of the Atlantic season today or tomorrow as it forced energy companies to evacuate platforms in the Gulf of Mexico and shut oil ports.
Nate's top winds are 65 miles (100 kilometers) per hour, below the threshold of 74 mph needed to be a hurricane, according to an NHC advisory at 8 a.m. East Coast time. The storm has been lashing Petroleos Mexicanos rigs in the Bay of Campeche and its final track is still in question.
"Nate is expected to become a hurricane either today or tomorrow," the Miami-based NHC said in an advisory. "Conditions appear to be generally favorable for some intensification."
The storm is about 125 miles west of Campeche, Mexico, moving northwest at 2 mph. Nate will gather pace and turn west by Sept. 11, the NHC said.