Apple's Steve Jobs Has Passed Away
October 6, 2011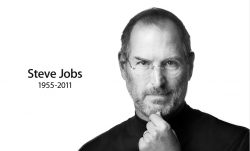 Apple has confirmed that Steve Jobs passed away today. In a statement, the company said:
"We are deeply saddened to announce that Steve Jobs passed away today. Steve's brilliance, passion and energy were the source of countless innovations that enrich and improve all of our lives. The world is immeasurably better because of Steve. His greatest love was for his wife, Laurene, and his family. Our hearts go out to them and to all who were touched by his extraordinary gifts."
Jobs died Wednesday at the age of 56, Apple announced, triggering a global outpouring of commentary about a life that was extraordinary by any measure. Though he shared little publicly about his personal life, his aura remains a force in the lives of millions of people around the world through the products that he pioneered and meticulously designed, earning a reputation as a sometimes intimidating taskmaster, yet also a source of fierce inspiration among the people he led.