Bahamas Says Farewell To Cuban Ambassador
October 3, 2011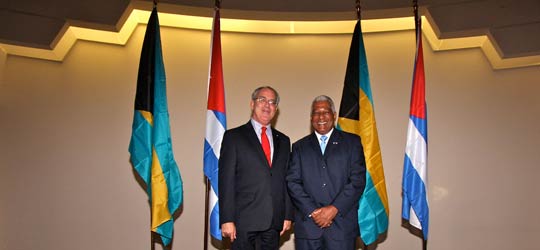 NASSAU, The Bahamas –  The Ministry of Foreign Affairs held a farewell reception for His Excellency Jose Luis Ponce Caraballo, Resident Ambassador of the Republic of Cuba to the Commonwealth of The Bahamas, who ended an acknowledged five years of distinctive diplomatic service.
The reception, which attracted high ranking government officials and members of the Diplomatic Corp, was held Friday, September 30, 2011 at the Wyndham Nassau Resort and Crystal Palace Casino on Cable Beach.
Deputy Prime Minister and Minister of Foreign Affairs the Hon Brent Symonette acknowledged the ambassador's accomplishments during his tenure here.
"During your tenure, you have represented your country with distinction having not only engaged in a meaningful fashion with Bahamian government officials but also you have successfully endeared yourself to the Bahamian people," Mr. Symonette said.
The Bahamas and Cuba share a long history of relations that predates the formal establishment of diplomatic ties in November 1974.
"Our bilateral relations continue to deepen as we continue to examine proposals in other areas of mutually beneficial technical cooperation," he said. "Historical forces such as trade, labour and geography forever intertwine us. It is our hope that mutual respect and a desire to witness the prosperity of our peoples continue to underpin these ties."
Noting that the role of a diplomat is not an easy one; Mr. Symonette said it involves balancing the promotion of advancement of one's country's national interests while being aware of the interests of one's host country.
"Ambassador Ponce, you have demonstrated impeccable skills in this regard," he said, accrediting him for the conclusion of negotiations at the technical level on maritime boundary delimitations, which began in 1998.
"This is an important agreement given our geographic interconnectedness and relative economic dependence on the sustainable use of our natural world. We commend Cuba for the high level of commitment, compromise, preparedness and openness that was evidenced during the negotiation process," Mr. Symonette said.
The Bahamas and Cuba are partners in many areas of functional cooperation bilaterally and through the Caribbean Community (CARICOM) mechanism. These include sustainable development, education, and health, amongst other things.
"During your tenure, you promoted further collaboration in these areas and urged the exploration of new areas of cooperation, which could prove mutually beneficial to our two countries," Mr. Symonette said.
In March 2009, The Bahamas and Cuba signed a 'Basic Framework Agreement on Economic and Technical Cooperation', which established the framework for future cooperation and project/agreements to be undertaken between both countries.
"You have advocated that education, including sport programmes is investments in the economic and social development of a country because they empower and provide confidence and guidance to the youth, the future of our countries," Mr. Symonette said.
The ambassador has also promoted the culture of the region as demonstrated by Cuba's partnership and participation in the "Third Travelling Caribbean Film Showcase" which took place 2010 in The Bahamas. The event featured 37 films from 19 countries and brought together thousands of film fans in the Caribbean for a diverse cultural experience.
Recognizing that Cuba is considered a global leader in climate change, Mr. Symonette said it is hoped that both countries will continue to cooperate and collaborate bilaterally, through the Cuba-Caribbean Community Mechanism and the various international arenas in efforts that urge universal participation and commitment to climate change.
By: Lindsay Thompson
Bahamas Information Services