Caribbean Tourism Officials Predict Upswing
October 28, 2011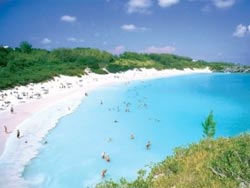 Regional tourism officials are hoping the number of participants in an upcoming hospitality industry conference is indicative of a pending 2012 upswing in Bermuda and Caribbean visitor numbers.
The Bahamas is set to play host to over 343 delegates representing 153 companies when the 30th Edition Caribbean Marketplace is held at the Atlantis on Paradise Island between January 22 and 24, 2012.
Officials at the Caribbean Hotel & Tourism Association (CHTA), organisers for the event, have announced that this number of registrants reflects a whopping 48 percent increase over the number of participants who were registered at this time one year ago when there were 14 weeks left until the event.
"The numbers we are seeing for Caribbean Marketplace support the fact that interest in Caribbean vacations is on the rise," said an encouraged Josef Forstmayr, president of CHTA.
Registrations have been rolling in from Bermuda as well as the Caribbean resorts of Anguilla, Antigua and Barbuda, Aruba, The Bahamas, Barbados, Bonaire, British Virgin Islands, Cayman Islands, Curacao, Dominica, Dominican Republic, France, Grenada, Jamaica, Mexico, Puerto Rico, St. Barths, St. Kitts & Nevis, St. Lucia, St. Vincent & the Grenadines, St. Martin, Trinidad & Tobago, Turks & Caicos Islands, United Kingdom, United States and United States Virgin Islands.