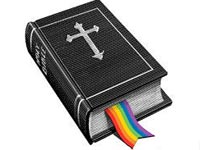 Baptist Bishop Simeon Hall urged homosexuals to seek help to turn away from their "non-productive and deadly practice", but a popular member of the gay, lesbian, bi-sexual and transgender community in The Bahamas denied his claim that many men are absent from families because of their sexual preferences.
Hall released the statement after a Nassau Guardian article revealed that the prevalence of HIV/AIDS in The Bahamas among men who have sex with men (MSM) is near 14 percent, which is nearly double the eight percent documented in 2008 by the Joint United Nations Programme on HIV/AIDS (UNAIDS).
Director of the National HIV/AIDS Programme Dr. Perry Gomez pointed out recently that that percentage increase is a result of better reporting, data collection methods and better access to the MSM community.
However, Hall said that members of the public should be concerned by the facts revealed by Gomez, which indicate that MSMs may be an increasingly vulnerable group.
"This sexual practice cannot produce anything and now we are seeing that, according to these latest statistics, it is deadly," Hall said.
"Homosexuality…is anti-family [and] it goes against what God has ordained. It is deadly."
However, Erin Greene, a human rights activist, said there are many additional factors to consider when drawing conclusions from the HIV/AIDS prevalence percentages, including the fact that not all MSMs identify themselves as homosexual.