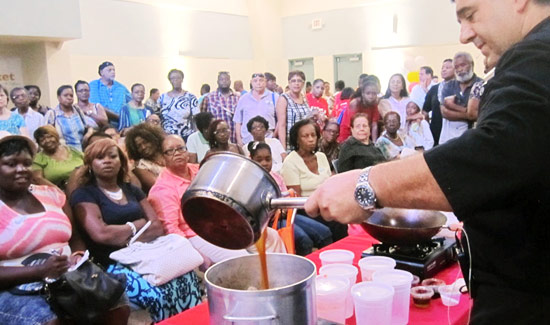 The 2nd Annual ACE Diabetes Get On Track Expo took place on Saturday November 8 and brought together a variety of organizations within the community to present information about diabetes-related products and services. The event was attended by about 400 people.

The expo covered all aspects of diabetes and the prevention of diabetes. Healthcare professionals were available to discuss and provide information on eye care, dental care, physical activity, healthy eating, weight loss, blood sugar monitoring, and medications. There were free health screenings all day and a plethora of prizes and giveaways handed.
Volunteers from Baha Mar were at the expo handing out well-prepared healthy boxed snacks to all attendees as they arrived. The highly coveted grand prize was also provided by Baha Mar. A 3-day/ 2-night Staycation at the luxurious Baha Mar resort, set to open in Spring 2015, was raffled away at the end of the day to one overjoyed winner.
In the greenhouse, Tim Hauber from Field to Fork Community Farm led an informative demonstration on backyard farming. There was standing room only as he educated expo attendees on how to grow their own food simply, healthfully and cost-efficiently in their own back yards.
Macfit Pro pumped up the energy with a dynamic 20 minute demonstration on fitness. Blasting high-powered music and performing easy, fun exercise moves the Macfit Pro expert had all the attendees, booth participants and volunteers jumping around and having a great time.
The "Ask The Experts" session featuring Dr. Graham Cates and internationally-renowned Dr. David Marrero was another expo highlight. Attendees flooded the conference room and listened with interest as the experts answered their questions on health and diabetes.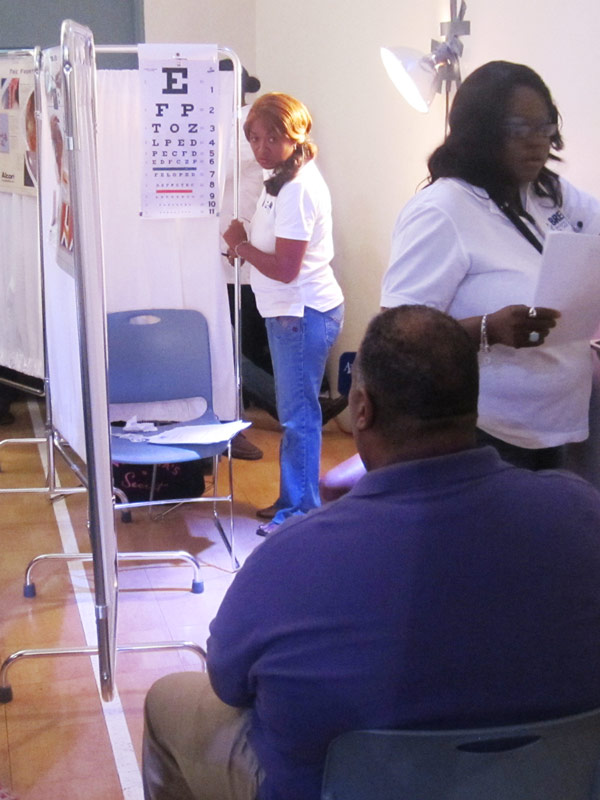 The crowd was especially drawn to the cooking demonstration performed by Chef Jacques Carlino of Blue Caviar.  Chef Jacques prepared a Teriyaki chicken stir fry, the delectable aromas from which wafted throughout the whole auditorium and left everyone's mouth watering for a taste. He also showed the eager onlookers how to prepare vegetarian Moroccan tagine with couscous and a French vinaigrette with vegetables.
One of the many popular stops was the Bahamas Retina and Eye Care Services (BRECS) booth. BRECS is a private Ophthalmology facility which aims to promote eye health, offered free mini comprehensive medical eye exams for glaucoma, cataracts, and other elements of diabetic eye disease. Expo attendees lined up in droves to have their eyes checked and BRECS gave away prizes as well to lucky winners.
"This is one of the best events I have ever attended," said one expo attendee. "I discovered services I wasn't aware of and I feel motivated to take charge of my health. This was a lot of fun, I feel like I learned a lot and I can't wait for it again next year."
ACE Diabetes was established in 2012 to address the overwhelming need in The Bahamas for diabetes awareness and the challenge of managing diabetes on a daily basis.
"Thank you to everyone who played a part at the expo… to the sponsors who made it possible, the booth participants who made it interesting, the many volunteers who kept things going smoothly and especially to everyone who attended and made it successful," said Anita Cates co-founder of ACE Diabetes and expo organizer.
Source: ACE Diabetes