Energy Efficiency Would Benefit Hospitality Industry
November 8, 2011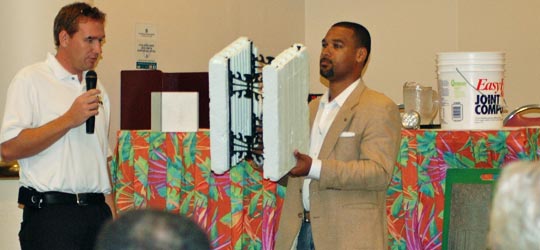 Nassau, The Bahamas – Small hotel investors stand to benefit from the profitability of energy efficient architectural design.   The Fichtner energy report revealed that most hotels produce high electrical costs that could be reduced by using products that improve energy efficiency.
"Research has suggested that the largest electricity savings potentials in The Bahamas exist for small hotels," said the Hon. Phenton Neymour, Minister of State for the Environment.
"As most of you are aware, under the IDB Technical Assistance, the German consulting firm Fichtner did a series of audits on the residential, hotel, and public sector during 2009/2010 the findings of which were published in the report Promoting Sustainable Energy in The Bahamas. The Hotel Association worked very closely with the Consultant in identifying 16 hotels in the Family Islands and New Providence varying in size from approximately 50 rooms to more than 350 rooms. Fichtner looked at several indicators on a per rented room basis, such as energy consumption and costs, and electricity consumption and costs."
On November 4,  under the theme, "Managing Energy Costs and Efficiencies:   A Business Consumer Forum Providing Practical and Proven Solutions to Growing Energy Costs," State Minister Neymour opened the Builders Show at the Nassau Wyndham Resort Ballroom, Cable Beach.   Minister Neymour said Fichtner suggested solar water heaters in hotel kitchens, more natural shading and ventilation in resort architectural design, and CFL or LED lighting with motion detectors and automatic shut-off timers in high to low traffic areas.
"This emphasises the need and potential benefits of becoming more energy efficient and the need for increased awareness. It is a major reason why the Government established a National Energy Policy Committee to lead efforts to first develop a National Energy Policy, to take practical steps to help our citizens become aware of and to find practical means of reducing energy costs, and to assist in the implementation of the Policy Action items," said Mr. Neymour.
Minister Neymour pointed out that the average cost of energy per hotel room ranged from $20 to $48 per night in electricity costs.   The Fichtner report showed that out of 100 percent, electricity costs took up about 87 percent of energy consumption, followed by diesel costs at six percent and LPG costs at seven percent.
He said that air conditioning consumed about 50 percent of the electricity bill, and hot water heating was between 17 to 45 percent.   When compared to other standards and behaviours internationally, Bahamians are involuntarily exposing the archipelago nation to price volatility and environmental risks.
"The Bahamas is also an active participant in the efforts of the US Government through its Energy and Climate Partnership of the Americas (ECPA), and is involved in the CARICOM Caribbean Communities efforts to formulate a regional energy policy which, in itself, is a sizeable challenge given the diversity across Caribbean nations," said Mr. Neymour.
"Globally our population has reached some seven billion inhabitants, many of whom live in energy constrained environments and may live their whole lives without access to what we take for granted. For those of us with nearly universal access to energy services, we have to make that effort to do so with increased efficiencies and using less energy.   We must also seek to apply our natural and human resources in a way that reduces our vulnerability to price volatility and environmental risks."
The Ministry of the Environment has been advocating for The Bahamas Electricity Corporation and the Water and Sewerage Corporation to consider other forms of alternative energies that reduces Bahamians' dependency on fossil fuels.
"This Government realises that the road to a sustainable and secure energy future will involve both the acquisition of hard technologies such as CFLs, Solar Water Heaters and Solar Photovoltaic systems and access to emerging technologies such as the use of Ocean Thermal Energy conversion for District Cooling, which is being proposed for the Bahamar project," said Mr. Neymour.
"We have encouraged the signing of a Memorandum of Understanding between technology providers and BEC to fully explore an alternative method of energy generation. Progress in the use of renewable energy has also been made in the water sector where the Water and Sewerage Corporation has signed a power purchase agreement for wind energy to supply its Tarpum Bay/Rock Sound desalination plant."
Minister Neymour reminded the public that the Government has been encouraging Bahamians to invest in energy efficiency products.   The Government will amend the legislation to allow Bahamians to benefit economically, by selling energy back to BEC through net metering or net billing programmes.   He encouraged participants in the weekend workshops to be successful in attracting construction consumers interested in saving money by protecting the environment.
"Additionally, the Government has reduced or eliminated duties on renewable technologies and increased access of technologies such as compact fluorescent light bulbs to Bahamians, in order to improve energy efficiency and reduce demand," said Mr. Neymour.
"We have done this with support from our partners such as the Inter American Development Bank (IDB) who I would like to again publicly thank. Through Ms Wynter and her predecessor, Mr. Oscar Spencer, the IDB has supported the Ministry of the Environment in the development, formulation and implementation of our national energy policy.   The Ministry of the Environment wishes each of you every success in this workshop and let me offer my full support to this effort."
By Gena Gibbs
BAHAMAS INFORMATION SERVICES