Milton Evans Appointed Supreme Court Justice
November 1, 2011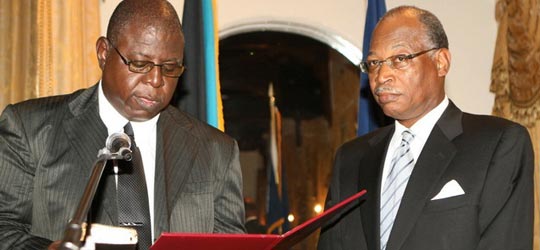 NASSAU, Bahamas — Chief Justice Sir Michael Barnett announced recently that Justice Milton A Evans has been appointed a Justice of the Supreme Court on a permanent basis.
Justice Evans had served as an Acting Justice of the Supreme Court from the 1st February, 2011 to the 8th May, 2011. He took up his permanent appointment on the 16th August, 2011.
Prior to his appointment to the Supreme Court, Justice Evans was a partner in the law firm of Evans & Co.
Born in Nicholls' Town, Andros, Justice Evans received his education in Andros as well as in New Providence at the Government High School and The College of The Bahamas.
He received his LLB degree with honours from the University of the West Indies in 1986 and was called to the Bahamas Bar in 1988.
Justice Evans has practiced law both in private practice as well as in the Office of The Attorney General. Whilst in the Office of the Attorney General he served as Deputy Director of Legal Affairs. Justice Evans is an experienced lawyer in both criminal as well as civil litigation.
Justice Evans is formerly a tutor in the law of evidence at the Eugene Dupuch Law School after having previously served as a lecturer in the law of civil procedure at the law school. He serves as a member of the Rules Committee of the Supreme Court.
Justice Evans is married to the former Patrice Ramsay of New Providence.
Chief Justice Barnett said he was pleased that Justice Evans accepted his invitation to serve as a Supreme Court Justice on a permanent basis.
The Chief Justice said, "Justice Evans brings valuable experience to the court having served in both the private and public sector."
Justice Evans has been assigned to the Civil Division of the Supreme Court and his Chambers is in the Supreme Court Annex on Saffrey Square, East Street.