New West Bay Street Opens
November 14, 2011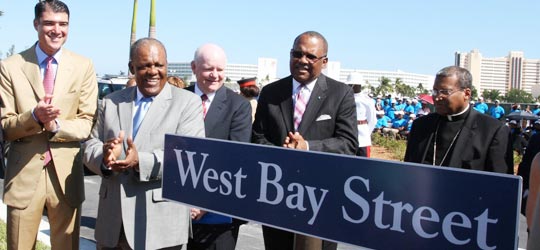 Nassau, The Bahamas – Addressing the ribbon cutting ceremony for the opening of West Bay Street, Prime Minister Hubert Ingraham said the newly realigned road falls within the New Providence roadwork development program me now progressing to accommodate the most massive urbanisation and community expansion to have ever occurred on the island.
"The very considerable movement of people to the farther expanses of the island especially to the South, West and East over the last four decades has now combined with the development of massive commercial establishments in more recent time to create an enormous imperative for addressing the challenges to ground transportation that this presents," he said.
As part of a major Cable Beach resort investment project, Baha Mar officially opened West Bay Street on Friday, November 11. Among those attending the ceremony were Members of Parliament and the Cabinet along with senior government officials. The Royal Bahamas Police Force Band provided music for the ceremony.
The 1.25 mile realigned portion of West Bay Street includes five round-a-bouts, a jogging/footpath and lakefront boardwalks.
Ground breaking for the 1000-acre resort, gaming and entertainment complex was held on February 21, 2011. A joint venture between the Bahamas Government and Baha Mar, it is scheduled to open in December 2014.
Prime Minister Ingraham said during the past four years the Government has been involved in a planned upgrade and enhancement of infrastructure on New Providence meant to transform the island into a world-class destination.
"It is a wonderful reality that our infrastructural upgrade is helping to spur economic development generally, to sustain and create jobs in the important construction sector and additionally, as in this case, to improve our tourism sector widening hotel choices available to the very important stopover visitor market," he added.
He said the new, re-aligned West Bay Street has provided opportunities for the use of ideas and talents of capable Bahamians including technicians, artists, environmentalists and planners and construction professionals.
Public Works and Transport Minister Neko C Grant said the New Providence Infrastructure Improvement Project and the Airport Gateway Project were undertaken by the Government with a view to providing employment opportunities for Bahamians while improving public road infrastructure in anticipation of the upturn of The Bahamas' economy.
He said the Baha Mar project is also providing employment opportunities for Bahamian workers for which the Government is grateful.
"This new West Bay Street re-alignment has been inspected by the Employer's Representative and the Employer, and can now be opened to the motoring public," he said.
"While temporary measures are in place relative to road markings and street lighting; we have been assured that their permanent replacement will be undertaken within the ensuing weeks."
By Kathryn Campbell
Bahamas Information Services