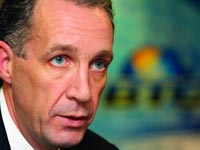 Acknowledging that Bahamas Telecommunications Company (BTC) customers have experienced dropped calls since the company launched its 4G network late last year, BTC CEO Geoff Houston says the problem should be solved by the end of the month.
A "negligible" amount of BTC customers have complained that cell phone service has not been as efficient as they would have hoped with the introduction of the new technology on New Providence and Grand Bahama in December, said Houston, who admitted he didn't have specific data on how many people have been affected.
"When we launched the network, we did say we will go through a period where we have to optimize it, where you may experience in some areas, a little bit of dropped calls," Houston said in an interview earlier this week.