Grand Bahama DNA Questioned On Choices
January 27, 2012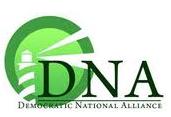 Four of the five candidates in Grand Bahama selected to run for the new Democratic National Alliance political party have raised a few eyebrows.
Their decisions to run with the DNA has left tongues wagging, simply because they all have family on the opposite sides of the political fence.
During the press conference on Tuesday when the last three candidates were announced some of the candidates were questioned on their choice.
Howard Grant II, who is the son of the Government MP for Eight Mile Rock Verna Grant, when asked about his decision and his support, he said that he had the support of his family.