FNM To Choose New Deputy At Summer Convention
February 6, 2012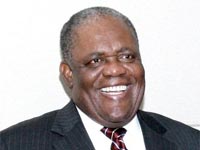 Prime Minister Hubert Ingraham said the Free National Movement (FNM) does not need a deputy leader to successfully contest the next general election, adding that Bahamians vote for a party's leader.
Ingraham reminded that it is not constitutionally mandated for the FNM to have a deputy leader as it heads into the next election nor does a deputy leader have to be an elected member of Parliament.
"It's not a constitutional position; so it's not an issue," said Ingraham when asked if the party had eyed a possible successor to current deputy leader Brent Symonette.
Ingraham said Thursday night he did not think the absence of a replacement for Symonette will cost the party votes.
"People of The Bahamas will elect a government, a party and a person who is going to lead that governing party. Everybody else is a member of the team. The people of The Bahamas know I am the leader of the FNM and we have 37 other candidates," he adde