Not Only Victims Of Violent Crime Suffer
February 29, 2012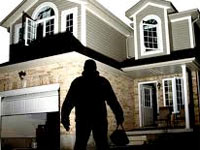 The crime problem in The Bahamas the last few years has been well documented. We often refer to victims of violent crime when discussing the issue, but property crime victims suffer too.
"They took everything," Archdeacon I. Ranfurly Brown told The Nassau Guardian of a break-in Friday at his Blue Hill Heights home. He said the break-in happened between 11 a.m. and 12 p.m.
According to Brown, the intruders entered through a window and took jewelry and electronics. His son was unharmed, even though the thieves took his computer out of his room as he slept.
"We have to get these politicians to be more honest about the reality of the intensity of this criminal attitude and element in this country," said Brown, "not to talk about the high profile crimes only, but the crimes that are affecting the poor man, the middle man, the man who is struggling to provide for his family and somebody could just come in and take everything."
Last June, the offices of St. Agnes Anglican Church, Brown's church, were ransacked and a safe with important documents and money was stolen.
The thieves entered through a northern window of the building by breaking the panes and cutting the iron security bars, Brown said at the time.
Housebreaking increased in 2011 by three percent from 2010. Last year 3,237 cases of housebreaking were recorded. The number of recorded cases of housebreaking has risen significantly the last five years.
There were 2,531 cases in 2007.
There has been a 27.9 percent increase in the crime from the 2007 figure to that recorded last year.
The overwhelming majority of these cases occur in New Providence. Last year there was an eight percent increase in housebreaking in New Providence with 2,340 cases recorded — nearly more than the cases of the crime recorded in the entire country in 2007.
While burglary and shopbreaking cases last year decreased nationally and in New Providence, thieves seem to be focusing their efforts on daytime break-ins at residences.
As a public figure, Brown told his story of frustration. But the voices of many victims of property crimes are not heard when thieves take what they worked for.
Property crimes affect more people than violent crime. Of the main categories of crime recorded annually, there were 1,860 cases of violent crime and 10,262 cases of property crime in 2011.
The largest increase in this category was stealing from a vehicle, which increased by 47 percent nationally — 42 percent in New Providence and by 99 percent in Grand Bahama.
We must continue to ensure that adequate resources and attention are focused on non-violent crimes. On the response side of the problem, this may mean increased sentences for offenders and the further dedication of police and prosecutorial resources.
As a society, we must not condone stealing. This means that families should not turn a blind eye to relatives who steal.
They should be turned in to police. Residents should also give support to area crime watch associations. We all have a role to play.
Editorial
Freeport News
Tuesday, February 28, 2012