Youth Encouraged To Creatively Express Views On Drugs
February 20, 2012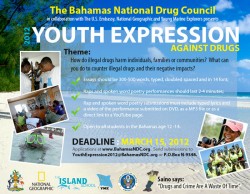 Stressing the negative impact of drugs to the youth in the country, The Bahamas National Drug Council, in collaboration with the U.S. Embassy, National Geographic and Young Marine Explorers recently introduced the 2012 Youth Expression Against Drugs.
Drug Council Members Joseph Darville and Dr. Bridgette Rolle, along with Nikita Shiel-Rolle of Young Marine Explorers visited the Bishop Michael Eldon High School on Thursday as one of their stops to tell the students about Youth Expression.
The theme is "How do Illegal Drugs Harm Individuals, Families or Communities? What Can You Do To Counter Illegal Drugs and Their Negative Impacts?"
For this the students are encouraged to use their creativity to create essays of 300-500 words, typed double spaced and in 14 points which would be handed in to the office to be collected as entries for the national essay competition.
Those with rapping or poetry performance skills are encouraged to video record their pieces, which should last 2-4 minutes. This too should be either uploaded on internet or handed in to the school again to be collected. Along with this entry, students are to include typed lyrics and a video of the performance on DVD, as an MP3 file or a direct link to a Youtube page.
The competition is open to all students in The Bahamas ages 12-14.
The deadline for the submissions is March 14, 2012.
There will be a number of finalists from each island who will receive digital cameras, and be taken to Nassau to take part in a Summer Youth Leadership Camp this June and attend the National Geographic's Photo Camp, to be held at the Island School on Cape Eleuthera this Fall. The students with winning submissions will also be highlighted as part of The Government of The Bahamas' Drug Demand Reduction Campaign – "Drugs and Crime are a Waste of Time" – for another round of workshops on drug abuse.
All submissions must be completed in the applicants' own artistic creation, although they may receive some limited technical assistance from others. Submissions will be judged on the use of the theme, creativity, delivery/style, and overall impact by a panel of judges.
Entries that infringe upon copyright protected material will be disqualified.
Source: Yasmin Popescu
The Freeport News