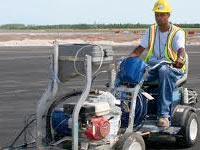 Bahamas Striping, one of the country's most successful Self Starter companies, is launching its recently acquired thermoplastic road striping trailer, ending the need for foreign-based companies to be striping Bahamian roads.
The new thermoplastic trailer, custom made in Georgia, USA by Advanced Striping Equipment, allows the more efficient striping of car parks and roads with more durable thermoplastic material. The new trailer carries two 1,500 capacity kettles that can quickly heat up a large amount of thermoplastic powder, enabling faster performance in the striping of public roads and large car parks. The Tomahawk Trailer is the fledgling company's largest investment in equipment since its 2010 start. Thermoplastic, which is required as the standard on most New Providence roads by the Ministry of Public Works & Transport, is two to four times more durable than traffic paint and is more visible at night and during rain for increased driving safety.
Bahamas Striping says the acquisition of this expensive machine is a great leap forward, enabling it to work on public roads to the agreed standard and to work efficiently on larger projects. The investment promises to increase Bahamas Striping's work crew, adding jobs and career skills to help combat joblessness and crime.
Now the local striping can be fully performed by Bahamians instead of a foreign-based multinational thus benefitting the local economy.
Source: Bobby Bower