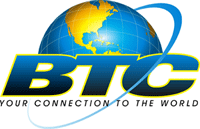 BTC announced that representatives will be in several communities this month to collect information as part of an ongoing effort to bring all existing customer records up to date to help ensure quick response to reports of faults or requests for new service.
"The survey to gather updated information for all existing customers is an exhaustive but essential exercise," said Marlon Johnson, VP, Brand and Communication. "Though demanding, we believe the result — a database of accurate information — will enable us to respond to or reach the customer faster, handle transactions, add a new service or change a plan, adjust a statement when warranted and to assist without unnecessary delay whether landline, cellular or internet. Many times our customer service representatives are hampered in their efforts to assist because someone is calling about a number and in the system that number is assigned to another person who may now be deceased or no longer lives at that address. Preparing an accurate inventory or audit is part of BTC's commitment to customer service."
The survey will be conducted between 9 am and 5 pm daily by authorised surveyors dressed in high visibility BTC vests and carrying valid identification. They will go door to door in Millennium Gardens, Yellow Elder, Bozine Hill, Blue Hill Ht., Boyd Subdivision, Chippingham, Farrington Road, Pinewood Gardens, South Beach, Ridgeland Park East, Montel Heights, Englerston and Peardale area. BTC said it hopes to complete the task by March 31. Customers are asked to call 225-5282 if there is any question about a surveyor or information sought.