Ingraham Abruptly Suspends House Of Assembly
March 29, 2012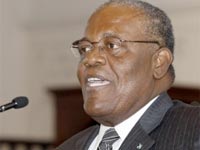 Prime Minister Hubert Ingraham abruptly suspended the House of Assembly on Tuesday – a move blasted by PLP Leader Perry Christie as retiring members were deprived the opportunity to publicly address their constituents for the last time.
Parliament has been suspended until May 22; however, Mr Ingraham said that he plans to dissolve the House on or before May 2.
The updated time frame has further narrowed the scope of when the next general election will be called as Mr Ingraham noted earlier this month that he did not plan to "take advantage" of the 90-day period available to him after the House of Assembly is dissolved.
He added that parliament would not be dissolved during Holy Week, which ends April 7. Mr Ingraham also maintained that the Free National Movement, will cease all campaign advertisements during the spiritual period.