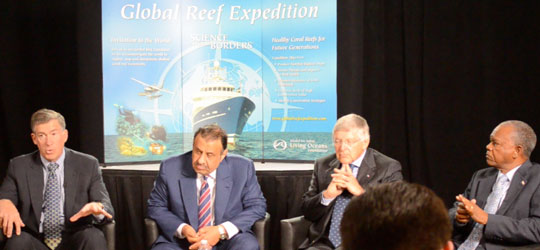 Nassau, The Bahamas – Marine Protected Areas (MPAs) by the Bahamas National Trust (BNT) is expected to designate half of the 100,000 square miles of Bahamian territory.
This conclusion was determined by the Government after the Prince Khaled bin Sultan Living Oceans Foundation launched and implemented a coral reef research expedition, involving nine Bahamian scientists.
The information revealed that Bahamian coral reefs are threatened with extinction, due to overfishing and climate change conditions.
"We don't anticipate any new legislation as a result of the research that was conducted' said Minister of the Environment, the Hon. Earl Deveaux at a March 3 Press meeting in the Adonis Room, Atlantis Conference Centre. "What we expect will happen is that it will inform and amplify our completed legislative work.
Also at the meeting were: HRH Prince Khaled bin Sultan, Chairman of the Living Oceans Foundation; Capt. Phillip Renaud, executive director; Ian Fair, chief financial officer.
Minister Deveaux noted that just recently the Bahamas National Trust Act was amended and that the government recently passed a Planning and Subdivision Act and a Forestry Act.  He said the government has a declared policy that will set aside 20 percent of the land and water of The Bahamas in permanently protected areas.
"We have exceeded that 20 percent goal already.  And by virtue of what we have done in the three Acts I just mentioned, we are likely to have under permanent protection, based on the regulatory environment, as much as 50 percent of The Bahamas.  To put that in perspective, much of The Bahamas lies in permanent wetland ecosystems.  And so, we've put those under permanent protection of the Forestry Act."
Since April 2011, nine Bahamian scientists participated in the "Science Without Borders" expedition and studied coral reef communities in Cay Sal Bank, Inagua, Andros, and Abaco.
"Specifically though, what this scientific survey would help us do is document in the remote parts of The Bahamas that we could not have gotten to the conditions that exist and tell us what we need to do to mitigate, in terms of our fisheries regulations, and our accommodation of marine stewardship; how we maintain the health of our coral reef systems.  This would be the first time many Bahamians would have seen Cay Sal in any way, shape or form.  And certainly the first time, many Bahamians would have seen Hog-sty Reef," said Minister Deveaux.
Minister Deveaux said the survey will tell a lot about the existing conditions and whether fishing activities has accelerated coral reef destruction.  We don't think, through varying indications are that it hasn't, but there is a serious threat that global warming from near and far man made activities would have resulted in some impact on these ecosystems.  And by telling us the conditions to date, it will help us measure what we need to do for tomorrow."
The impact of environmental protection would shield Bahamian natural resources that now harbour food security, pharmaceutical medicinal compounds, and rare precious stones for jewellery manufacturing.  Minister Deveaux said that the BNT has requested to create the Cay Sal National Park and to propose a World Heritage Site in the peculiar Hog-sty area, off of Inagua.
"We have this atoll-like feature, which is probably the most precious coral reef system in the world because it's black coral and we've protected it to save it from predation, because it's an extraordinary valuable resource that's used for jewellery manufacturing," said Minister Deveaux.
"Inagua, as you know, is already under permanent protection, so documenting Inagua was important because for a long time Inagua has been protected for the flamingoes.  So the work will help us to determine the extent to which our protection activities have done what we hope they would have done, which is to maintain systems in The Bahamas, are in tact."
It was noted that shark protection was established after the government placed a ban on long line fishing in Bahamian waters, and, that  they are working on grouper protection, as well as, other national ecosystems to ensure long-term coral reef health.
By Gena Gibbs
BAHAMAS INFORMATION SERVICES