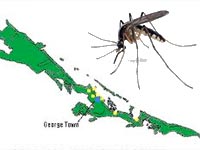 The Ministry of Health has been advised of a case of malaria in a traveler who visited the island of Great Exuma between February and March 2012.
A team from the Health and Environment Ministries has been mobilized to investigate if there are other cases of malaria on the island, according to a press statement released by the Ministry of Health.
Malaria is not endemic in The Bahamas, but sporadic cases are encountered from time to time. Malaria is transmitted by the bite of the female anopheles mosquitoes.
"There are ongoing antimalarial prevention and control measures, including fogging and larvicidal treatment of bodies of water," noted the press statement. "Heightened surveillance activities also continue at community clinics in Exuma, with associated testing of any persons with high fevers (102 degrees F) and symptoms suggestive of malaria," it continued.
Source: The Nassau Guardian