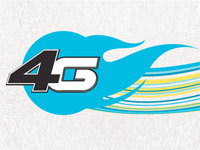 One week after some 200 people celebrated the opening of BTC's new retail experience store in George Town, Exuma, the company said it had more good news for the Family Island in the central Bahamas — the launch of 4G.
"We are proud to announce that 4G went live today in George Town, just in time for the 59th Annual National Family Island Regatta," said Marlon Johnson, Vice President, Brand & Communications. "We don't know if the A, B, or C Class boats will sail any faster than they normally do. But we do know that those on shore following the races and enjoying the festivities will be e-mailing, downloading, taking and sending video and photos, texting and connecting faster than ever with the highest possible speed for wireless communications, 4G."
BTC introduced 4G in New Providence with all 44 cell sites live in December, in parts of Grand Bahama later that month, completing work there in February, and is moving throughout the islands with the high-speed wireless service, compressing what had been intended as a 3-year project to one year. Work is finished in parts of Abaco. Bimini and the Berry Islands are on tap to go live with 4G next week. When the 4G roll-out is complete by late summer, The Bahamas will be one of only a handful of countries worldwide to be completely blanketed by 4G.
According to industry analysts, it is likely to be years before many parts of the U.S. are enabled by 4G, the platform that provides greater reliability and faster speeds on wireless devices, opening up a world of entertainment, social interaction and other benefits for those using Androids, iPhones, tablets, Samsung Galaxy models and other high speed devices.
"Telecom operators usually do a full blown 2G deployment with 4G in highly concentrated areas, moving from there to more remote areas over a period of time but we are blanketing the country with a complete overlay from Day One," Johnson said. "It will place The Bahamas in a unique position and give the country a competitive edge, making it quite a remarkable place as a country to do business in."
Thousands are expected to crowd the George Town area this week for the regatta that BTC is helping to sponsor.
Diane Phillips & Associates