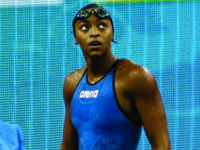 Competing at the Canadian Olympic Trials in Montreal, Canada this past weekend, Bahamian swimmer Arianna Vanderpool-Wallace swam to a new Bahamas national record in the 100-meter (m) freestyle in 54.28 seconds, lowering the old record of 54.46 seconds which she swam in Shanghai, China in July 2011. This 100 free time places Vanderpool- Wallace in the top 20 for 2012, and sets her up perfectly for a what could be a fantastic performance at the 2012 London Olympics.
Vanderpool-Wallace recently won the National Collegiate Athletic Association (NCAA) 100 free title and will now return to Auburn University in Auburn, Alabama, to complete her preparation for the upcoming London Olympics. She has qualified for both the 50 and 100 freestyle events.
In the 4x100m free relay in Canada, The Bahamas' women's team of Vanderpool-Wallace, Alana Dillette, Alicia Lightbourne and Ariel Weech swam to a new Bahamas national record of 3:47.40. That time earned them a first place finish in the event, and currently has them listed as the 16th fastest team heading into the London Olympics. That time was almost a full second faster than the time of 3:48.34, which was swam by the quartet of Vanderpool-Wallace, Dillette, and sisters Teisha and Alicia Lightbourne, in Rome, Italy, in 2009.
The Bahamian women have had their eyes set on securing qualification for the Olympics for this event, and are now well on the way. According to the FINA website, they are just behind France and ahead of the Ukraine.
The 2012 Summer Olympics are set for July 27-August 12, in London, England.