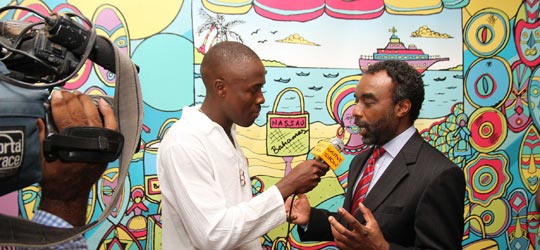 More than 150 invited guests were on hand when Minister of Tourism & Aviation Vincent Vanderpool-Wallace officially opened the new BTC store at the western entrance of historic Nassau Monday evening. That VIP event will be followed by a public grand opening Saturday, complete with Easter weekend family entertainment.
The new store is one of two locations opening in New Providence this month as part of BTC's ambitious plan to vastly expand the company's retail footprint, transforming dated administrative offices or building new stores and opening 35 locations by the end of 2012. Already, BTC has completed renovations or is in the midst of construction on nine of those.
The other Nassau location in the Shirley Street Plaza serves Paradise Island and the Eastern District, including many of the island's schools.
"We are continuing at a very fast pace encouraged by the positive response we are getting since we opened the first store with the new look and feel at the Mall at Marathon in December," said Marlon Johnson, VP, Brand and Communications. "Three months later, we are still getting an amazing amount of foot traffic in the Mall store every day. There is a cheerfulness about it that customers respond to along with the ability to try out products, download music, experiment with gaming, all sorts of hands-on experiences that were never available before and now exist with friendly staff who can show you how to use a new device in an atmosphere charged with art and energy."
The Shirley Street renovation was one of the most dramatic. Once a narrow linear office with clerks who accepted bill payment behind glass separation panels and returned change in a sliding metal drawer, the re-created Shirley Street location will be a bright, inviting store with artwork and Caribbean colours throughout, live mobile and fixed line phones and other devices, displayed and ready to use in a vibrant environment.
"Along with taking that little galley-like space into the 21st century, we are expanding the hours and will be open all day on Saturdays starting before the end of April," said Johnson.  The Bay Street renovation is the largest since the Mall store and presented the most challenges. BTC moved its downtown space from east of East Street in the former Mike's Shoe Store to the BAF Building diagonally across from the British Colonial Hilton.
"The architectural demands of this site created one set of challenges," said retail lead Bob Gill, "but that was just the tip of the iceberg." Because the building had been used by a number of different businesses and subdivided over many decades, including at one time as a bank, it had uneven floors that varied by as much as a foot. "The other challenge was that it is in a building where a court and other businesses are located so we had to limit noise of demolition during the day and much of our work is being carried out at night."
According to Johnson, BTC believes its downtown store complements the restoration of historic Nassau.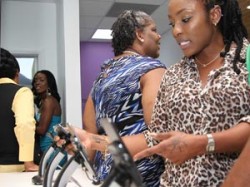 "We looked at several prospective locations for our downtown retail space and what really persuaded us that this was the right choice in spite of the construction-related challenges and the rounded architectural complexity was that this building will stand at the formal entrance to historic Nassau," said Johnson. "We believe it will become an historic landmark and we are excited about playing a significant role in the transformation of our capital city."
BTC is also wrapping up work on stores in George Town, Exuma, Treasure Cay, Abaco and work is underway on four locations in Eleuthera. The company opened its renovated Grand Bahama store in January. So far, officials said, the retail roll-out is within budget and on schedule.