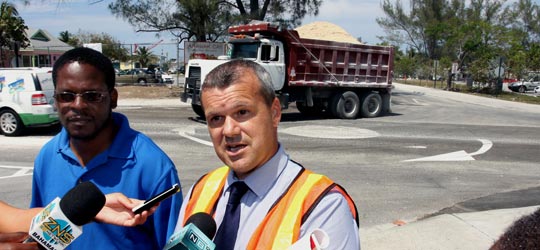 Nassau, The Bahamas – A mini-roundabout has been installed at the West Bay Street and Arawak Cay junction as a temporary measure to assist with traffic management in this area.
David Bullock, chief civil engineer in the Ministry of Public Works and Transport, said the roundabout is a very simplistic way of trying to regulate traffic flow to make it easier particularly for lorries and tractor trailers exiting Arawak Cay.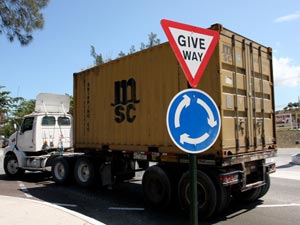 "Many lorries access this junction. We've got long term plans to make improvements but we recognise the need to do something very quickly in the short term so we've introduced a mini roundabout," said Mr. Bullock.
"We recognise the need to strengthen what we've got, make some small improvements to signs and additional work on the linings to make it clearer to drivers."
He advises motorists to approach the area with care, be observant, and give way to traffic on the right.
Mario Smith, assistant engineer, said there are signs on the three legs of the roundabout to inform approaching vehicles at this intersection to yield to traffic on the right.
"It is a painted road marking so drivers can actually drive over it and is the same level as the road surface. There is no obstruction and no built in curbing. Traffic on the roundabout itself has the right away," Smith said.
Long-term plans include a signalized intersection and expansion of lanes. Officials hope that if the short-term measure is successful the concept can be introduced in other key locations throughout the island.
By Kathryn Campbell
Bahamas Information Services