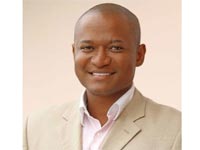 BTC announced today the company has named leading Bahamian business executive Gershan Major to its expanded management team as VP, Channels & Marketing.
Major, best known as the CEO of Mail Boxes Etc., a company he grew from one location to a presence in 14 countries prior to selling the business, is the latest in a series of Bahamians to join BTC in top management positions. As VP of Channels & Marketing, he will be responsible for development and implementing marketing and sales strategies for the telecommunications provider. Channels & Marketing, one of the areas rebranded in the post privatization environment of the company, focuses on creating a new competitive commercial strategy in preparation for the full liberalization of the telecommunications sector in 2014, according to company officials. As head of the company's Business Enterprise, Retail, Marketing Division and Directory Publications operations, Major will help to ready BTC for competition.
"Gershan brings the kind of practical experience that we needed for the road ahead," said BTC CEO Geoff Houston. "He has the right skill set and brings hands-on administration experience that we think is so vital to the position. In addition to ensuring our products and services are ideally placed in the market for the maximum benefit and revenue earning potential, he will be responsible for coaching and developing what we think is one of the more highly skilled marketing teams in the country."
Major is well known in the Bahamian business context as a professional with broad team-building experience, people leadership and management skills. Prior to his most recent position as CEO/Founder of Major International Group where he focused on franchise development and small and medium size enterprise expansion,  he served as CEO/Managing-Director of Caleb Enterprises Ltd – Mail Boxes Etc., where he spearheaded and executed the company's expansion of franchise brand to 14 English-speaking Caribbean Countries.
He also served as Assistant Vice-President of Risk Management with one of the leading financial institutions in the country. Actively involved in the business and civic side of the community, Major is a former vice chairman of the Bahamas Chamber of Commerce, an executive board member of the Bahamas Hotel Association, and Private Sector-Group leader Bahamas 96th Seating of the ILO.
Major earned his Master's of Business Excellence in International Franchise Development from MBE University in San Diego, CA. He earned an advanced Diploma in Spanish from the University of Hispaniola, Dominican Republic and is fully conversant in the language. He is also a proud alumnus of the College of The Bahamas & the Caribbean -Canada Emerging Leader's Dialogue (CCELD).
His appointment was effective immediately.
BTC has attributed many of its customer issues to outdated equipment. Issues like delayed text, call failures and call drops are linked to the old elements.
"By the end of the summer we want to show customers a brand new cellular experience," said Johnson.
To keep customers informed, the company plans to issue a series of public notices in the press, on its websites and on its various social media sites. There will also be email address for customers to report specific issues they are facing in a particular area. The company is welcoming feedback, so BTC technicians are able to pinpoint where they are facing issues. Family Island work will continue following completion in New Providence. Simultaneously with cellular service upgrades, BTC is completing work on its fixed line systems, a $60 million-plus upgrade that will allow the company to offer better landline service. That work is to be completed by year-end.
Diane Phillips & Associates