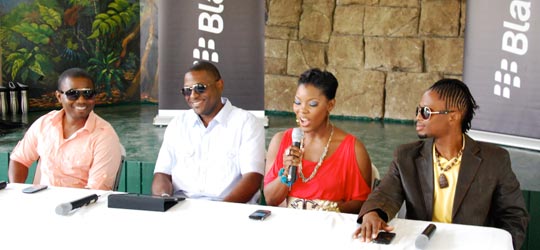 Excitement meets stress, hearts race, cameras roll. It's the most daring, critical hour of the BTC Starmaker reality series, the Wild Card Show, giving two of those voted off in the past a final chance to re-claim a spot among 10 finalists in the competition of The Bahamas' best-watched reality show. It's Episode 7 of the 8-week long reality series sponsored by BTC and contestants are being schooled on all things Blackberry by guest speaker Jared Fisher of Research in Motion – the company that brings you Blackberry.
For remaining contestants, it might as well have been the semi-finals of The Voice or American Idol. You could have heard a pin drop. Contestants listened to every syllable about features of Blackberry devices knowing that the speaker, Fisher, would put their knowledge to the test shortly during the final challenge of the series. After some one-on-one guidance from local performing artists "Sammie Starr" Poitier, Dillon "D-Mac" McKenzie, Bodine Johnson and Dyson Knight, contestants were tasked with writing a 30-second ad promoting themselves as the next BTC Star.
"There was a lot of pressure at first because we had to come up with something in a very short timeframe," said senior Grand Bahama contestant Marquita Whyms. "The guest speakers taught us to try to be ourselves when we present and to let our creative side show. So I decided to use Bahamian music, using an Avvy beat and adding my own flavor so people would find it catchy."
In just under a week, two winners will walk away from the popular show with a $10,000 contract, national fame and the title of voice and face of BTC for the remainder of the year. Winners, one in the junior category between 13 and 17 and the other in the senior, 18-30, will represent BTC online, at events, in stores and in community initiatives.
More than 300 people initially signed to try their luck, with a third of the initial entries coming from separate auditions in Abaco and Grand Bahama. Viewers can tune in for the grand finale on ZNS-11 at 8 pm on Wednesday, May 16.
Feature photo:
IT'S A ZOO OUT THERE – During a competition at Ardastra Gardens, Zoo & Conservation Centre, BTC Starmaker guest panelists (l-r) "Sammie Starr" Poitier, Dillon "D-Mac" McKenzie, Bodine Johnson and Dyson Knight spoke to contestants about getting the audience's attention, creating a catchy jingle and standing out as an artist. Two final winners will walk away with a $10,000 contract and the sought-after title of BTC Star. The final show will air live May 16 from the British Colonial Hilton.