Christie Announces Several Cabinet Selections
May 10, 2012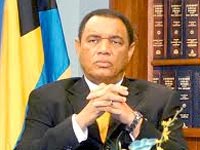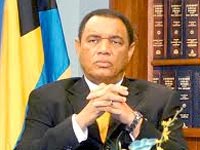 The Cabinet Office announced today that Prime Minister Perry Christie has advised the Governor-General to make the following cabinet appointments, with additional appointments to follow:
Dr. Bernard J. Nottage – Minister of National Security & Govt Leader in the House of Assembly
Obediah Wilchcombe – Minister of Tourism
Jerome Fitzgerald – Minister of Education, Science & Technology
Ryan Pinder – Minister of Financial Services
Allyson Maynard Gibson – Attorney General & Minister of Legal Affairs
Damian Gomez – Minister of State in the Ministry of Legal Affairs
Michael Halkitis – Minister of State in the Ministry of Finance
Keith Bell – Minister of State in the Ministry of National Security
These particular ministerial appointments have a critical bearing on the three most pressing issues facing The Bahamas today: crime, the economy, and the need to re-vamp our educational system to better prepare our youth for the challenges that face them.
It is a reflection of the urgency that the new government attaches to these matters that this first group of ministers to be announced are centrally involved in the fight against crime; the revitalisation of the economy, especially in tourism and financial services; and the expansion of our investment in our youth so that they can be properly equipped to compete for good jobs in the 21st century
This first group of ministers will be sworn in at Government House at 4pm today (Thursday). Yesterday, Philip Brave Davis was sworn in as Deputy Prime Minister and Minister of Works & Urban Development while Perry G. Christie was sworn in as Prime Minister and Minister of Finance on Tuesday.
All remaining ministers will be sworn in tomorrow in keeping with Prime Minister Christie's promise that his entire cabinet would be fully assembled by Friday.
It is also announced that the Government has engaged former State Minister for Finance and former Central Bank Governor, James Smith CMG, as a consultant to the Ministry of Finance on a broad range of budgetary, fiscal and economic management issues.
It is also announced that the former Commodore of the Royal Bahamas Defence Force and former Ambassador Clifford 'Butch' Scavella has been engaged to spearhead the setting up of a new body that will seek to more efficiently co-ordinate intelligence-gathering and joint strategic planning among the various law enforcement agencies in the country so as to ensure a more effective campaign against gun smuggling, drug trafficking, illegal immigration, poaching, and crime generally.
Bahamas Information Services