Ingraham Remains Until FNM Elects New Leader
May 10, 2012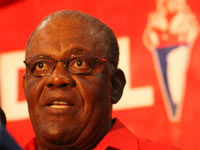 Even though former Prime Minister Hubert Ingraham resigned as leader of the Free National Movement (FNM) on Monday night, he will remain in the position until the party elects his replacement, according to party chairman Carl Bethel.
The party suffered a crushing loss in the general election on Monday.
Bethel said the decision on when the FNM will hold its convention, where it is expected to elect new leadership, would be made in a matter of days.
Bethel said that the leader and deputy leader positions "will be achieved through an orderly process, firstly within the terms of the FNM's constitution, and thereafter as required under our nation's constitution".
According to an FNM statement issued yesterday, Ingraham and elected parliamentary colleagues will steer a process of transition that will initially involve the central council, the supreme organ of the party outside of convention and all other relevant party committees.
In addition to electing a leader and deputy leader, the FNM will have to choose a leader of the official opposition to represent the party in the House of Assembly.
The party will have few to choose from as only a handful of FNM candidates were elected to the House.
However, former Education Minister Desmond Bannister said that while there are a few FNMs in the House, the party will still be well represented.
"They're going to have to be aggressive in Parliament and keep the party to the forefront, and the issues that are important to the Bahamian people in the forefront."