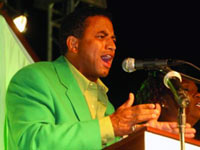 Democratic National Alliance (DNA) Leader Branville McCartney said he does not intend to rejoin the Free National Movement (FNM) despite comments by members in the party that it is an open tent.
FNM Chairman Charles Maynard said in an interview recently that the party would welcome all former FNMs, including the DNA leader.
McCartney resigned as minister of state for immigration in the previous administration on February 28, 2010.
He resigned from the party in March 2011, and has since publicly voiced his dissatisfaction with Ingraham's leadership.
He formed the DNA in May 2011 and was at the helm of the party in its unsuccessful bid in the last election.
After losing the May 7 election, Ingraham resigned as party leader and has announced plans to resign his seat in the House of Assembly next month.
McCartney said he believes Ingraham was the reason the FNM lost.
He said that before the election the DNA had a paid membership of around 10,500, and has since attracted close to 1,200 additional paid members.
McCartney said the party spent $1.8 million on its recent campaign.
He said the DNA will not run a candidate in the North Abaco by-election that must take place after Ingraham's retirement from politics next month.