Nassau Music Society to host Special Summer Concert Under the Patronage of His Excellency Sir Arthur Foulkes, Governor General, and in association with the Embassy of the People's Republic of China Featuring the Xi'an Conservatory of Music Quartet –  Saturday, July 7th,  2012 – 7:30PM –  St Andrew's Kirk, Shirley St. (Princess St.)
"Xi'an Conservatory of Music Quartet", established in 2009, has premiered a number of modern music works and has successfully held several chamber music recitals. They were praised as "artists with rare and touching connotation of the music".
The Quartet members have rich chamber music and solo experience, and are frequent winners of domestic and international competition awards. The repertoire of string quartet is from baroque to contemporary music, their playing style being accurate and interesting, especially skilled in playing the modern and contemporary music works.
About the Artists:
TIAN Hui, 1st violin
Dean Assistant of the Orchestral Instruments Department of the Xi'an Conservatory of Music; violin teacher; Member of the Jury for the CCTV Piano and Violin Competition; Studied at the Hochschule fuer Musik Köln (Germany) with Professor Gerhard Peters; The principal violinist in the Köln Youth Opera Orchestra and the Köln Youth Symphony Orchestra; Founder of "Xi'an Conservatory of Music Quartet".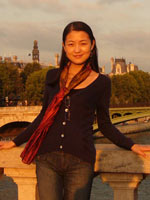 ZHANG Zhiying, 2nd violin
Violin teacher at the Xi'an conservatory of Music; Has studied with Professor Lin YaoJi as postgraduate student; Has held a recital in Paris, France as a professional violinist; Participated as principal violinist in the European Symphony Music Festival, and was awarded "the Performance Prize"; Has published several professional academic papers.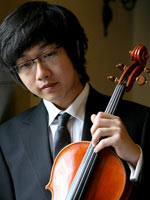 WANG Keju, viola
Dean Assistant of Orchestral Instruments Department at Xi'an conservatory of Music; viola teacher; Visiting scholar at the Yale School of Music; Prize winner of many international music competitions; Graduated from the Central Conservatory of Music with Professor Wing Ho.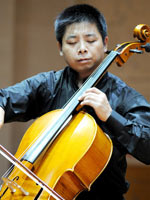 SUN Peng, cello
Associate professor of cello at Xi'an conservatory of Music; Member of the Chinese Musicians Association; Member of China Chamber Music Society; Studied at the Xi'an Conservatory of Music (China) and the Musikhochschule Luebeck (Germany); Also studied chamber music with Prof. Weltz (Hochschule fur Musik Hans Eisler Berlin); Performed in Hong Kong as principal cellist of CISMA symphony orchestra with Charles Dutoit and Martha Argerich.
Get your tickets now as seating is limited and there will be one night only. Box Offices: A.D. Hanna & Co. Deveaux Street, Tel: 322-8306; Logos Bookstore, Harbour Bay, Tel: 394-7040; Custom Computers, Cable Beach, Tel: 396-1100; Moir & Co. Lyford Cay, Tel: 362-4895, Nassau Music Society, Tel: 327-4145 or online at www.nassaumusicsociety.org/reservations
Proceeds will benefit the Nassau Music Society's scholarship fund. For more details on our programme: www.nassaumusicsociety.org