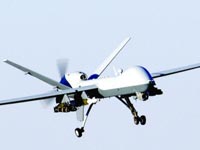 The Bahamas government intends to make inquiries to the U.S. government over a report that the United States has been quietly testing unmanned surveillance flights over The Bahamas for more than 18 months, Minister of National Security Dr. Bernard Nottage said yesterday.
Nottage said neither he nor Minister of Foreign Affairs Fred Mitchell was familiar with the operations and he has asked the Ministry of Foreign Affairs to look into the matter.
However, former Minister of National Security Tommy Turnquest indicated that the former administration was aware of the Predator drone tests.
Both Nottage and Turnquest were approached by The Nassau Guardian on the matter yesterday as a Los Angeles Times story made the rounds on social media.
The L. A. Times said: "After quietly testing Predator drones over The Bahamas for more than 18 months, the Department of Homeland Security plans to expand the unmanned surveillance flights into the Caribbean and the Gulf of Mexico to fight drug smuggling, according to U.S. officials."
The story also said that for the recent counter-narcotics flights over The Bahamas, border agents deployed a maritime variant of the Predator B. The Predator B is best known as the drone used by the CIA to find and kill al-Qaeda terrorists in Pakistan and Yemen.