Senior Government Officials Advised Of Their Roles
June 28, 2012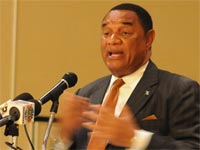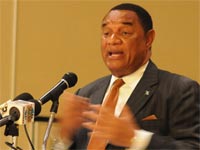 NASSAU, The Bahamas — Prime Minister Perry Gladstone Christie said the country is in one of the most difficult and challenging economic and fiscal periods in the history of the nation.
The Prime Minister was speaking at the Ministry of Finance Budget 2012/13 Budget Symposium at the Sheraton Cable Beach, Wednesday, June 27, 2012. The symposium was geared towards Permanent Secretaries and Heads of Department in the Public Service.
Prime Minister Christie said, "I am here to bring directly to you the very important roles that you not only play but that you should play with the efficient and effective management of revenue and expenditure."
He told the senior government officials to look beyond the accounting for expenditure and revenue.
The Prime Minister said it would cost money for the Government to introduce its new initiatives to maintain law and order, the two major challenges facing the country besides unemployment.
"Therefore as you administer your own Ministries, you must know for us to succeed, today the expenditure outstrips the revenue of this country.
"We must therefore necessarily work towards balancing the recurrent budget of our country."
Prime Minister Christie said that during the budget debate he spoke about being optimistic, that there can be a turn around in the economy.
"We are the closest offshore sun destination to the United States of America and therefore from a policy point of view, we must make the decision that the fastest and most effective way to create jobs is still tourism."
He said the tourism numbers for the country's competitors in the region have been improving despite the recession.
"Therefore, resources must be dedicated to promoting investment opportunities, to promoting tourists coming to our country."
The Prime Minister said the country's "outstanding in the fact" that most of the millions of dollars made from tourism leaks back out.
He said resources must be dedicated to establishing linkages with the tourism industry, especially in the areas of agriculture and fisheries.
"We have to have the will to know that we have to put the money behind it and we have give the incentives for people to get behind it."
Prime Minister Christie charged the Permanent Secretaries to confirm and make sure to give their opinions and views.
By Llonella Gilbert
Bahamas Information Services