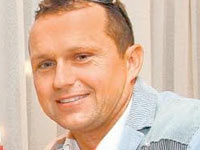 The Turks and Caicos Islands Government (TCIG), through Attorney General Huw Shepheard, has reached a "confidential settlement" with Russian billionaire and Salt Cay developer Mario Hoffman, who was once at the centre of corruption allegations following the Sir Robin Auld Commission of Inquiry.
A press release from the Attorney General said that after several years of claims and counterclaims, they have settled all current claims and proceedings between his office and Hoffman.
Shepheard stated: "The terms of the settlement are confidential, but the parties have agreed to make public all significant terms. Mr Hoffmann and the Development Companies have transferred all the lands on Salt Cay which they own or lease to TCIG, totaling some 1,506 acres; Mr Hoffmann and the Development Companies have made a contribution to TCIG's costs; Mr Hoffmann has surrendered his Belongership and neither Mr Hoffmann nor the Development Companies admitted any wrongdoing or civil or criminal liability when entering into the settlement."
Shepheard added: "We are pleased that these disputes have now been settled, and in consequence that the position of Salt Cay is now secured with the transfer of all the respective lands on Salt Cay to the Government. The Government will be undertaking a broad consultation as to the future of Salt Cay."
Hoffmann, a wealthy Slovakian businessman, is, indirectly, the owner of over 90% of Postova Banka, a regulated Slovakian retail bank, and is the Chairman of its supervisory board of directors.
Since 1997 he has been a frequent visitor to TCI, having built a house here and spending 2 to 3 months here every year. Since 2000 he has been pursuing a project to develop the island of Salt Cay through a company called DEVCO. To that end he has steadily acquired land on this island from the Government of TCI. Another Slovakian bank, J & T Banka, is a partner in this project. An important part of the project is the creation of a golf course.
The TCI Government, under the leadership of its premier, Michael Misick, granted to DEVCO the land on which the golf course was to be built, on a 99 year lease at a "peppercorn" rent. In August 2006 Salt Cay Golf Club was incorporated as the company that would own and run the golf club. 50% of the shares in this company were held by Mr Hoffmann's Cyprus based holding company.
The other 50% were given to a holding company of which Mr Chal Misick, a brother of the Premier, was the owner. In the following year, 2007, Michael Misick successfully applied to J & T Banka for a loan, made to himself and his then wife LisaRaye McCoy, of US$ 6 million. Mr Chal Misick provided, and J & T Banka accepted, his 50% shareholding in Salt Cay Golf Club as security for this loan.
Former Premier Misick, who is wanted for questioning by the SIPT, is presently living in political asylum in an unknown country. It is unclear if, as a result of the settlement with Hoffman, the allegations against Misick and his brother Chal, will still stand.
Last week, the AG also dropped criminal corruption charges against billionaire developer Jak Civre, who was charged by the Helen Garlick-led Special Investigation and Prosecution Team (SIPT) with bribery in connection with the construction of the Seven Stars project. Those charges were dropped, purportedly because of his health and age, but after Civre paid close to US$5million to the Turks and Caicos Islands Government as part of a civil recovery settlement.
Meantime, the Government press release quoted Hoffmann as saying: "We have at all times maintained our innocence with respect to all allegations of misconduct and corruption made against us and determined that it was most convenient and expedient to enter into the settlement rather than continue on with the disputes in relation to Salt Cay.
We are pleased to put these disputes behind us. We have maintained our innocence at all times and continue to think that our project for Salt Cay was a good one for the people of Salt Cay and the Turks and Caicos Islands. After litigating these issues for several years, in light of all mutual claims we felt it best to settle these disputes now and move forward with our other businesses. We thank the people of Salt Cay for their trust and confidence in us."
In his final report, Commissioner of Inquiry Sir Robin stated: "There is, in my view, information and evidence before the Commission suggestive of the involvement of Michael Misick in corrupt dealings in relation to the Government's transactions with Mario Hoffmann on behalf of DEVCO and of Chal Misick's knowing assistance and complicity in it. Whatever the value and worth of the Salt Cay development as a whole, the Commission is unable to accept the account of Mr Hoffmann in relation to the appointment of Mr Chal Misick as a partner in the project."
Sir Robin Auld also wrote: "I find that there is information of possibly corrupt and/or otherwise seriously dishonest involvement, including misfeasance in public office, of Michael Misick in relation to the Government's transactions with Mario Hoffmann of DEVCO for the development of Salt Cay:
1) in respect of his participation in that development with Chal Misick's knowing assistance and complicity in it, as described above;
2) in the potential abuse of his public office by accepting lavish and disproportionate hospitality from Mario Hoffmann, including the use of private aircraft, the provision of international flights and other hospitality in the course of developing business relations between DEVCO and the Government;
and
3) in potential abuse of his public office by seeking and accepting a loan of $6 million from J&T Banka when that Bank, on its own account, was in negotiation with the Government over funding and participation in the development of Salt Cay. I, therefore, recommend criminal investigation by the police or others of the possibility of corruption and/or other serious dishonesty, including misfeasance in public office, in relation to Michael Misick in respect of those matters."
By Hayden Boyce
Publisher & Editor-in-Chief
The Turks and Caicos Sun