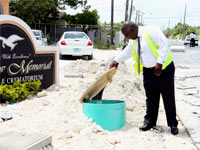 NASSAU, The Bahamas – Deputy Prime Minister and Minister of Works and Urban Development Philip Davis said, on August 29, 2012, that, "all things being equal, and no major unforeseen difficulties like the arrival of heavy rain being experienced and based on the paving schedule as presented to the Ministry of Works and Urban Development by the contractor", it is proposed to open up all roads within the New Providence Road Improvement Project  (NPRIP) for traffic on Monday, September 3, 2012, for school opening, with at least the first coat of asphalt being applied.
"I caution, though, that the schedule for initial paving on Bernard Road is for Saturday,
1st September, with Sunday as a backup day," Deputy Prime Minister Davis said, at a press conference held at his Ministry, prior to a media bus tour of the NPRIP.
"There is still the possibility that Bernard Road may have to be closed for a few days if unexpected difficulties are experienced, although, like you, I sincerely hope not."
He cautioned that his announcement is not to say that the entire 15.7 miles of road-works will have been finished as, there are still outstanding water main works at a crossing at the old Village Road roundabout, connections along Village Road, and a connection at Grace Avenue.
"Approximately half of the contracted roads (some 7.2 miles) will have only the first layer of asphalt but these are all expected to receive the final coat by the end of October," he said.
"In short, the roads will be open to vehicular traffic, but works will continue."
Deputy Prime Minister Davis said that with the active support of the Royal Bahamas Police Force, school traffic is expected to be free flowing.
"The police have worked out contingency plans for any challenges which may yet materialise," he said.  "The Police will maintain their efforts as works continue to ensure that citizens have access to their homes, businesses, churches and schools through to the completion of the project and beyond."
Deputy Prime Minister Davis said that during his Ministry's last update and tour with the press on July 18, 2012, he indicated that the plan was to take advantage of lower traffic volumes during July and August to further advance the road-works.
He added that as the NPRIP nears its end, he wished to express his gratitude to the public for "putting up" with the necessary disruption to their lives and their motor vehicle movement.
"The Government is mindful that, going forward, greater care must be taken to involve the community in the planning stages of major works like this and to ensure that every effort is made to lessen negative impact on the daily lives of citizens," Deputy Prime Minister Davis said.
By ERIC ROSE
Bahamas Information Services
Caption: Deputy Prime Minister and Minister of Works and Urban Development Philip Davis inspecting work being done near the junction of Soldier Road and Prince Charles Drive, during a media bus tour of the New Providence Road Improvement Project  (NPRIP), on August 29.  (BIS Photo / Letisha Henderson)