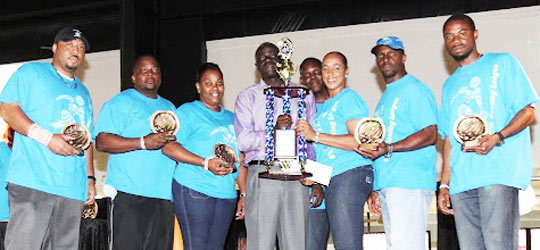 Every Thursday evening for the past six weeks, more than 125 BTC staff members left stress behind, headed to Mario's, sunk their fingers into a bowling ball and kept their eye on the prize.
They are the bowlers of the 21 BTC teams.
This Thursday, rounds of play culminated in championships. Competition aside, the real celebration, said the champion, was team-building.
"It means so much to me to be part of the BTC bowling league. What was so exciting was that bowling was keeping everybody together as a family. Many of us never would have met each other if it hadn't been for bowling. For me, I didn't know 50% of the people there until we started but now it makes everyone feel like family," said Jonice Lockhart, top bowler. A former member of the Bahamas National Bowling Team, and a BTC staff member now in credit and collections, Lockhart's sentiments echoed international research into corporate morale. According to a recent article in US News & World Report, engaging in team sports was the second best way to build team spirit and spike positive feelings. "It was all about the camaraderie," says Lockhart.
It might have been about the camaraderie, but Lockhart wasn't taking any chances about coming second. Her team, the Night Hawks, bowled twice weekly, once on Tuesday for practice and again on Thursday when real scores were kept. "I had to teach them bowling finesse, how to hold the ball, about the different weights of the ball and how it would roll depending upon the condition of the lanes."
Conditions of the lanes? Isn't that track? Or horse racing?
"People don't realise that they oil the lanes so different balls roll differently depending on the condition," explained Lockhart, who averaged 151.2 points a night. She turned in the winning score of 907 points for the six weeks, adding weight to her team score of 10,878 points over the season.
Second highest overall and the top male competitor was Barry Wilmott, who singlehandedly racked up 801 points.
In the recreational leagues, it was Express Messengers under captain Mario Curry with top honours and a combined score of 9,395 points. Each team consisted of six members, five regulars and an alternate.
If the bowling league was a team-builder for BTC, it was a fitness-builder for participants. It's reported that bowling, while not the highest calorie burner on the scale of sports (bowling burns about 210 calories an hour for a 200-lb person), it is a real muscle-maker, one of the few sports that uses every muscle group in the body.
According to BTC's Senior Manager for Public Relations, Jerome Sawyer, maintaining high staff morale is key for the fast-moving company.
"The telecommunications industry is moving so fast and BTC is doing so much in so many directions from new retails stores to 4G to broadband upgrades, we need everybody to be fully engaged and excited about the transformation and progress," said Sawyer. "Team sports are an excellent way to build relationships and friendships. In the end, it's all about feeling good about yourself and the company you work with and we're excited that bowling helped contribute to those positive feelings."
Diane Phillips and Associates
Caption: BTC's Night Hawks take top place among the team's vying in serious competition in BTC's team-building bowling league. Captain Jonice Lockhart, 3rd from right, accepts trophy and prize from BTC Senior Vice President Tellis Symonette.