Kayak Challenge 2012 Planned For November
August 24, 2012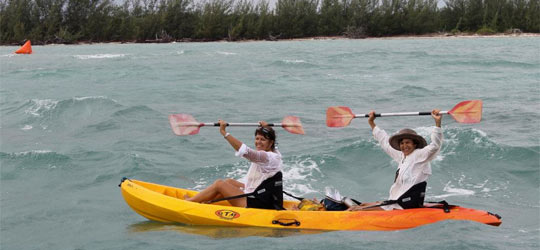 The Abaco Cancer Society and Friends of the Environment are working together to present Abaco's second annual Kayak Challenge on Saturday, November 3rd at Pete's Pub & Gallery in Little Harbour, Abaco.  Based on the first year's success with more than 50 paddlers participating in inclement weather, both organizations are hopeful that The Kayak Challenge is only going to grow  in 2012.
Any craft you can paddle will be welcome, including kayaks, paddle boards and canoes – just no engines!  There will be 3 courses to choose from: 3 miles, 8 miles, or 15 miles that will take paddlers into and through the scenic tidal creeks of the Bight of Old Robinson, which is included in the proposed East Abaco Creeks National Park. There will also be a kid's course inside Little Harbour.
Support boats will be on hand to assist paddlers, make sure they stay on course and provide water and snacks.  Paddlers will be welcomed back with a beach party featuring local band, Fire and the Goat Peppers.  There will be activities for children on the beach throughout the day as well as an art show featuring local Abaco artists.
FRIENDS and the Abaco Cancer Society are seeking business sponsors to support the event. If you are interested, please contact kwilliams@friendsoftheenvironment.org.
More information about the event is available on the Friends of the Environment's website: www.FriendsoftheEnvironment.org or on Facebook under the event Kayak Challenge, Up a Creek with a Paddle 2012.