Bahamians to Participate in Culinary Olympics
September 5, 2012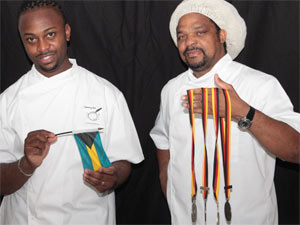 Two Bahamian chefs are set to showcase their Bahamian pride at this years' International Exhibition of Culinary Art (in German: Internationale Kochkunst Ausstellung or IKA), better known as "Culinary Olympics", in Erfurt, Germany, October 2-10, 2012.
According to the event's statement, it is a quadrennial chef competition and the biggest culinary exhibition in the world.  It was last held in 2008 and 54 countries and 1,600 participating chefs.  This year, 45 countries are slated to compete.
Although budgetary constraints did not allow for a Team Bahamas to be assembled this year, the chefs are representing The Bahamas as individuals to continue the country's heritage of medaling at the Olympics.
The Bahamas won two bronze in 2004 and a bronze in 2008 as a team.
Private / Personal Chef Sheldon Tracey Sweeting is an award-winning chef who served on Team Bahamas as part of the medaling teams and was co-captain.  He was Executive Chef at Cable Beach Resort, Head Chef at Marley Resort and Spa's Simmer Down Restaurant, He also won various other awards, including at the Bahamas Culinary Classic, Martinique Culinary Arts Festival – where he received the Madin' Gastro Kannari D'or (Golden Pan) Award and Taste of the Caribbean – where he was Pastry Chef of the Year and is listed in the Taste of the Caribbean Hall of Fame.
Assisting him is Chef Ron Johnson of Savoury Arts Culinary and Consultation Service, a personal and private chef company.  Chef Johnson won several Culinary Medals & Certificates and has a Hospitality MBA, Event Leadership Concentration and a Culinary BS, (Magna Cum Laude), Leadership & History Concentration from Johnson and Wales University; an Organisation of American States scholarship recipient; a member of the Bahamas Junior National Culinary Team; a judge for the 2012 New Providence Junior Young Chef Championship and participated in Ministry of Tourism Chef Demonstrations.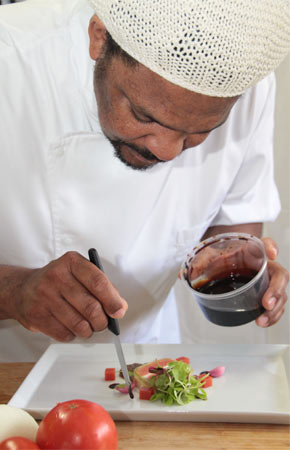 Chef Sweeting said that he loves to compete; but, personally, the event is a learning experience for him.
"You have 45 countries from all around the world; so can you imagine the number of chefs that would entail?" he said.
"Just to see all the various categories, the creativity – I get ideas for years."
Chef Sweeting added that the Culinary Olympics is also a chance for him to "check" himself and see how his ability as a chef ranks internationally.
"I want to see if all my hard work is paying off with a comparison with chefs from around the world," he added.
Chef Johnson said he feels honoured to be working along with Chef Sweeting in representing The Bahamas.
"I feel very privileged to represent the country and it is an honour to showcase what The Bahamas has to offer, especially in the culinary field," said Chef Johnson.
Minister of Tourism Obie Wilchombe said he encouraged The Bahamas' participation in the Culinary Olympics and said that winning medals at the event has something to do with the uniqueness of The Bahamas.
The Ministry of Tourism is providing support to the two chefs in assisting their taking part in the Olympics. However, the chefs still need support from the private sector to obtain what they need to be in the competition.
"We are trying to get our people believing in a simple theory, that we could be the best in whatever we do," Minister Wilchcombe said.
He said that that requires that those representing The Bahamas appreciate that they have unique dishes throughout the world.  For example, he said, The Bahamas should be the conch capital of the world because of the country's diverse use of the seafood.
"We should find ways to create the unique dishes to draw people to our country and distinguish The Bahamas," Minister Wilchcombe said.  "When you go to France or when you got to Latin America what you look for are particular dishes that promote the country."
Chef Johnson said that being in the Caribbean the tropical "flavours" that The Bahamas has is very strong, especially in the tastings.
"To introduce those different nations that will be there to our flavours, that's something to look forward to," he said.
Chef Johnson is known for one of his signature dishes, a deconstructed conch salad.
"I was brainstorming the idea of an everyday dish, something that is very popular and make it into something new," Chef Johnson said.
He used all the elements in the regular conch salad and updated it into a form that a five-star restaurant could consider using.
"Although it does not look the same as it does at the 'Fish Fry', it has basically the same flavours, same elements," he added.
"With all the new products in cooking and additives, we are also trying to be, in a sense, a little cutting edge, trying to take a guava and turning it into a guava oil or a foam – doing a bunch of crazy things just to push ourselves," Chef Sweeting said.  "That's one of the things that this is all about: it ever-evolving, ever-changing.
"If you want to stay current, the Olympics is the place to do it."
Chef Sweeting offered words of advice for young chefs coming up in The Bahamas.
"If you have a dream and a goal, do not stop," Chef Sweeting said.  "If I had listened to people and what they told me, I would never have amounted to anything in this field.  I would never have competed on an international level.
"I didn't listen to them and, with God's guidance and the support of my family, this is where I am now."
Minister Wilchcombe added that the chefs competing in the Culinary Olympics have to find ways to better their craft and, at the same time, think about the uniqueness of the dishes they have to offer.
"Once we are able to do that, we would be able to see more of those dishes appearing on the menus," Minister Wilchcombe said.
Minister Wilchcombe said that one of the concerns that his Ministry has is that more Bahamian products and dishes, developed locally, should be placed on the menus and they have to find ways to ensure that happens.
"Tourism is our number one industry and I feel that a lot more emphasis must be placed on our cuisine, giving it more exposure," Chef Sweeting added.  "When tourists come here, most of them want Bahamian food, what we eat, what we make here."
"We could do it and that's where we, as Bahamian chefs, come in.  We have to be creative."
"We have some work to do; but I am so glad that we are still competing," he said.
By ERIC ROSE
Bahamas Information Services
Captions: Chefs Ron Johnson (left) and Sheldon Tracey Sweeting pose, on September 4, 2012, as they prepare to represent The Bahamas at the International Exhibition of Culinary Art (in German: Internationale Kochkunst Ausstellung or IKA), better known as "Culinary Olympics", in Erfurt, Germany, October 2-10, 2012. (BIS Photo / Eric Rose)
NASSAU, The Bahamas – Chef Sheldon Tracey Sweeting works on one of his test dishes, on September 4, 2012, as he prepares to compete in the International Exhibition of Culinary Art (in German: Internationale Kochkunst Ausstellung or IKA), better known as "Culinary Olympics", in Erfurt, Germany, October 2-10, 2012. (BIS Photo / Eric Rose)