Airport Fiascos Leading Country To Disaster
September 12, 2012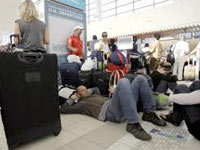 I am writing this letter hoping to get some swift action with regards to the Lynden Pindling International Airport (LPIA).  I am an airline employee spending at least 18 years at this airport and this year is the worst that I have ever experienced in all my years here.
The year started out with the ATC dispute where we experienced delays of up to three hours which, no doubt angered a lot of passengers and cost the airlines thousands of dollars in fuel as planes lined up and waited for hours to take off.
This summer, US Customs and Boarder Protection (CBP) was short staffed and for just under two months we were faced with major back ups in the Customs Hall that resulted in passengers claiming to be in line for up to two hours waiting to be processed. There are about 20 processing booths in the US  Customs hall but the most booths I have ever seen occupied was 12. I would say on average, this summer, they had seven-nine booths manned each day. Passengers missed flights on a daily basis as a result of this inferior service and many times so many passengers were missing from flights at boarding time which resulted in airlines taking delays.  It got so bad until some of the US  Carriers received directives from their head offices to start getting the flights out on time regardless of how many passengers were missing. This placed great stress not only on passengers but also on the airline gate agents as they were the ones taking the brunt of abuse from angry passengers who arrived at the gate only to find out that their flights were gone.
We received many reports of how rude the CBP officers were to passengers. One lady told us how after asking the officer if they thought she would make her flight, the officer's response was, "You should have come out here from last night to get in line!" Another passenger told of how a lady moved out of line to tell the officer she had a flight leaving in 30 minutes and whether she could move up in the line and the officer told her to go to the back of the line and if she came back up again she would be denied entry.
Wheelchair passengers complained about being separated from family members because of a policy implemented by CBP, i.e. if you are travelling in a party of five and one person needed a wheelchair, only one other person in your party could move to the front of the line to be processed with the wheelchair person. The  other members have to fill out an additional customs form and join the line to be processed separately.
Our country has suffered major damage as a result of this and I am just shocked that it was allowed to go on for so long. I don't think they have any plans to have all 20 booths manned ever.
The bottom line here is CBP can no longer handle what they were sent here to do and the time has come for the government to seriously consider whether they be allowed to stay here and continue to destroy our tourism industry or let all flights clear in the United States. The other Caribbean countries are making it just fine clearing in the United States and their on time performance is much better than ours here in Nassau. This is one of the things that will make them more attractive for expansion of air service.
On top of all of this, the airlines have been in a constant fight with Nassau Flight Services who handles most of the airline's ramp services. For years airlines have not been getting their money's worth because they have always been strained with manpower and equipment issues.
The airport facilities have been another issue that have frustrated airline operators to no end and the sad thing about it is, Nassau Airport Development (NAD) hardly ever owns up to these issues. The old terminal had six jet bridges. This new terminal that we are in now has five jet bridges. Where is the progress in this? Right now only three of the five jet bridges are properly functioning. On two of them, the canopy cannot extend over the aircraft door. One of them has been like this for at least two months and the other one joined the ranks about three weeks ago. This means on days when it rains passengers exiting or entering the plane are getting wet and the aircraft floor gets wet by rain blowing into the aircraft.
The baggage belt has been another source of frustration, breaking down several times and causing flight delays. In light of all of this I don't see how Tourism officials are going to be able to fix their mouths to approach US Air Carriers on adding additional flights to this market to accommodate Baha Mar. No airline in their right mind is going to do it  under the conditions that we have been working under.
The past eight months have proven over and over that we cannot handle what we have here now. We cannot allow these outside entities (NAD and CBP) to come in here and ruin our  product because at the end of the day when it's over for us they both have their countries they can go back to. We have nowhere to go.
Remember! Without the airlines airport workers are done and it filters down to taxi drivers, tour operators, car rental companies, and the biggest one would be the hotel workers. We need to get it right or we could be headed for disaster.
Not a single foreign air carrier is obligated to stay here and trust me they are not happy with the way things have been going in this new terminal.
Frustrated Airline Worker
Nassau