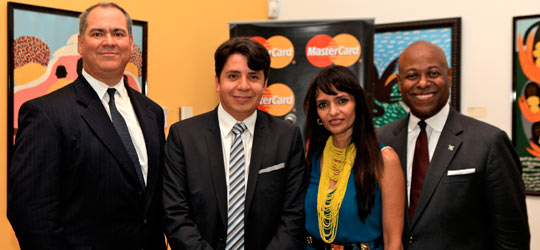 Nassau, Bahamas – MasterCard Worldwide, in partnership Tourism Minister Obie Wilchcombe, celebrated the success of their destinations program "Find Your Way" by hosting a cocktail reception for the program's participating merchants at the National Art Gallery, where MasterCard shared the program's 2011 results and announced its evolution into "Priceless Bahamas". The program, which will now be part of MasterCard's global platform Priceless Cities, will continue to offer MasterCard cardholders traveling to the island, unique experiences and exclusive benefits through a series of special offers designed to enhance the visitor experience.
"We are very excited to continue growing our destinations program "Find Your Way" as it extends throughout 2012 and evolves into Priceless Bahamas" said Rafael Puebla, head of Marketing for Colombia, Venezuela, Ecuador and the Caribbean for MasterCard Worldwide's Latin America and Caribbean region.

"This means that not only is this fantastic destination program continuing – with even more merchants and offers to maximize the tourists experience at the Bahamas, but also that now this fantastic city joins a slew of global destinations – part of MasterCard's Priceless Cities platform."
MasterCard's Priceless Cities program was born from MasterCard's desire to create unique, priceless experiences in the most exciting cities in the world, with the goal of creating a destinations platform that goes beyond borders, and beyond just offering discounts, but that truly helps create memorable experiences in these unique destinations. The Bahamas will join other elite cities that are already part of the program, such as New York, Beijing and Toronto.
During 2012, MasterCard cardholders visiting Nassau Paradise Island, Bahamas will continue to enjoy exclusive offers when they use their MasterCard® cards to shop at 53 participating merchants throughout the island (i.e. restaurants, retail stores, car rentals, hotels, limited tours and entertainment).
For a complete list of merchants and program details, please visit www.mastercard.com/bs.
At the reception, Rafael Fuentes, MasterCard Worldwide's Latin America and Caribbean region, thanked the Bahamas Tourism Ministry and the program's participating merchants for their continuous support. "Since we created the program in 2008, our goal has always been not only to maximize the visit of the tourists that visit the island, but also, to support local merchants from the tourism industry, as this is a key sector of the Bahamian economy."
The 2012 program currently includes a total of 53 participating merchants in over 70 locations, an increase of 57 percent since the program's inception in 2008. At the reception, MasterCard announced a total of $64.5 million sales from participating merchant categories in 2011, which represents an increase of 7.5% since 2010 – despite the recent economic challenges suffered by the tourism industry.
In addition, the program aims to contribute to an overall positive experience by island visitors and the local merchant community alike, and shared that during 2012 the participating merchant satisfaction level exceeded program targets, reaching a 97 percent satisfaction level.
The Bahamian Minister of Tourism Obie Wilchcombe added, "We are thrilled to continue our partnership with MasterCard in 2012, in our joint effort to make the Bahamas the top destination in the Caribbean by offering enriching experiences to the tourists that visit the island. The success that the program experienced in 2011 is a perfect example of true partnership between MasterCard, the merchants and the Tourism Ministry, and it shows how together, we can achieve great results. We fully support the program and are excited that our island is now "Priceless".
About MasterCard Worldwide
MasterCard is a global payments and technology company. It operates the world's fastest payments processing network, connecting consumers, financial institutions, merchants, governments and businesses in more than 210 countries and territories. MasterCard's products and solutions make everyday commerce activities – such as shopping, traveling, running a business and managing finances – easier, more secure and more efficient for everyone. Follow us on Twitter@MasterCardNews, join the conversation on Cashless Conversations Blog and subscribe for the latest news.
Diane Phillips and Associates
Main photo credit: Roland Rose for DP&A
Gallery images by BahamasB2B News Team
Caption: MasterCard's Destination Program "Find Your Way" Evolves into Global Platform "Priceless Cities" and Continues to Deliver Value and Enhanced Experiences for Tourists in2012 ·MasterCard's destination program shows success in 2011 and returns in 2012 with a robust suite of year-long experiences and offers MasterCard announces that its travel and entertainment program done in partnership with the Ministry of Tourism and local merchants, will now become Priceless Bahamas as part of the global platform "Priceless Cities"