Tropical Storm Leslie Churns In The Atlantic
September 5, 2012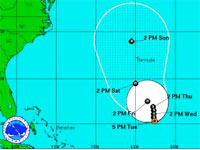 Tropical Storm Leslie continued to churn in the central Atlantic, slowly heading towards Bermuda, where the National Hurricane Center in Miami said the system may strengthen to a hurricane and brush the island later this week.
At 5:00 pm EDT on Tuesday, the centre of Tropical Storm Leslie was located about 500 miles south-southeast of Bermuda, moving toward the north near 3 mph. A slow northward motion, which may be erratic at times, is expected over the next couple of days.
Maximum sustained winds are near 65 mph, with higher gusts. Some strengthening is possible and Leslie could become a hurricane in a couple of days.
Swells generated by Leslie will continue to affect Bermuda, the US east coast from central Florida northward, the northern Leeward Islands, Puerto Rico and the Virgin Islands for the next several days. These swells could cause life-threatening surf and rip current conditions.
Meanwhile, Tropical Storm Michael has also formed over the central Atlantic and the centre was located about 1,210 miles west-southwest of the Azores, moving toward the north-northwest near 7 mph. A north-northwestward to northward motion is expected through Wednesday and a turn toward the north-northeast is forecast to begin Wednesday night and continue on Thursday. Little change in strength is forecast during the next day or so and there is currently no threat to land.