Bitter Merchants In Wake Of Caribbean Cruises
October 10, 2012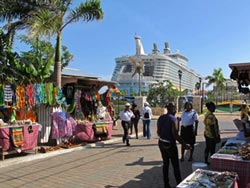 FALMOUTH, Jamaica (AP) – Tourists emerge by the hundreds from a towering, 16-deck megaship docked at the Caribbean's newest cruise port. They squint in the glare of the Jamaican sun, peer curiously at a gaggle of locals beyond a wrought-iron fence and then roar out of town on a procession of air-conditioned tour buses.
Few stop to buy T-shirts, wooden figurines or beach towels from the dozens of merchants lining the road outside the fence, or visit the colonial-era buildings that dot the town. Not many even venture beyond the terminal's gates, unless it's in one of the buses that whisk them past increasingly disgruntled vendors and taxi drivers.
In the Bahamas, Disney Cruise Line ships stop at the company's own private island, dubbed Castaway Cay, where locals work as massage therapists, bartenders and drivers and supplies are brought in by the ships.