Knowles Celebrity Tennis Tournament On For December
October 19, 2012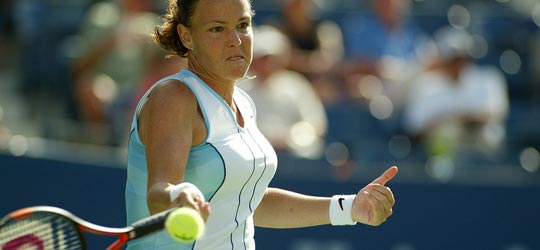 Mark Knowles may well have retired from the professional tennis circuit but that's certainly not true in any other area of his life – his family and his Celebrity Tennis Invitational coming up December 6th-9th.
Very recently, as of October 16th, he was invited to participate in the 20th anniversary edition of Mylan WTT Smash Hits presented by Geico pitting Team Elton against Team Billie-Jean where the event secured $1m for the Elton John AIDS Foundation with part proceeds going to the Pittsburgh AIDS Task Force.  Mark teamed up with his former tennis academy room-mate, Andre Agassi, to beat Andy Roddick and Jan Michael Gambill resulting in a smashing win for Team King.
One of the stars in the tennis world he has recruited to come to the Bahamas this year is Lindsay Davenport, former #1 in 19918, 2001, 2004 & 2005 and owner of 3 Grand Slam Singles Championship titles which include, Wimbledon, the U.S. Open, the Australian Open and an Olympic Gold Medal in 1996.   She retired last year but has stayed active in the tennis world as a commentator and celebrity on the tennis circuit.
Sam Querrey, is another guest player ranked #22 in the world and the second highest ranked American behind John Isner.  He was an outstanding junior player and although he had elbow surgery in 2011 reached the two quarter finals in Valencia and Memphis.  He has seven Singles Career titles, the most recent this year in Los Angeles.
Other confirmed players are Jesse Levine, Ana-Lena Groenefeld, Yasmin Schnack, Alex Kuznetsov, and Don Johnson the 2001 Wimbledon Doubles Champion.
We still have a couple of slots left to play in the Pro Am and a variety of sponsorship packages available.  As anyone who follows Mark's Celebrity Tournament, is aware all of the proceeds go to various children's charities and as of last year an accumulated total of $750,000 has been distributed to them.  The two major recipients have been the Sassoon Paediatric Heart Foundation and the Paediatric Cancer Society has each received a total so far of $175,000.  Promising Junior tennis talent has also seen $125,000 go towards their coaching and tournament costs.
Mark looks forward to seeing everyone at the event and thanks players and sponsors for their very valuable contributions of money, time and commitment.
Victoria Sarne,
Publicist & Event Planner