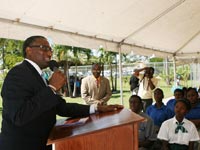 Agricultural cooperatives and producer organisations came into sharp focus during the Bahamas' celebration of World Food Day, October 16 at the Arawak Cay Culture Centre.
They play "a pivotal role in achieving food security and reducing poverty," said keynote speaker Anthony Moss, Parliamentary Secretary in the Ministry of Agriculture and Marine Resources.
World Food Day was established 32 years ago by the United Nations Food and Agriculture Organisation, FAO, which also marks its 67th anniversary this year.
FAO is mandated to raise levels of nutrition globally, improve agricultural productivity, better the lives of rural populations, and contribute to the growth of the world economy.
In recognition of the role cooperatives play in improving food security and contributing to the eradication of hunger, the theme for this year's World Food Day is  'Agricultural Cooperatives: Key to feeding the world.'
This theme is in keeping with the United Nations General Assembly resolution 64/136 which proclaimed the year 2012 as the 'International Year of Cooperatives'.
The State of Food Insecurity in the World 2012 report, noted Mr. Moss, presents new estimates of the number and proportion of undernourished people, defined in terms of the distribution of dietary energy supply.
With almost 870 million people worldwide chronically undernourished in 2010-2012, he said, "the number of hungry people in the world remains unacceptably high."
The vast majority of them live in developing countries, where about 850 million people or slightly fewer than 15 percent of the population is estimated to be under nourished, said Mr. Moss.
"There is broad agreement that smallholders will provide much of the extra food needed to feed more than nine billion people by 2050," he said.
"One of the necessary steps to achieving food security is to support and invest in cooperatives, producer organisations and other rural institutions.
"Agricultural cooperatives and producer organisations play a pivotal role in achieving food security and reducing poverty."
A key benefit of cooperatives, he observed, is that they put people before profit, and help their members achieve shared social, cultural and economic aspirations.
"Cooperatives across all sectors provide over 100 million jobs around the world," said Mr. Moss, the Member of Parliament for Exuma and the Ragged Islands. "This figure represents 22 percent more than multinational enterprises. An estimated one billion people worldwide are members of cooperatives."
In The Bahamas, there are 17 cooperative societies – ten financial-credit unions, one apex cooperative league, and six producer service cooperatives (agricultural, fishing, multipurpose).
Approximately 200 persons are employed full-time by cooperatives in The Bahamas and many more employed indirectly, he said.
The Ministry of Agriculture is partnering this year with 'Hands for Hunger.'
Mr. Moss recognised the role FAO is playing and pointed to "an exhaustive list" of the activities fostering agricultural development in The Bahamas.
"There is a strong, positive relationship between FAO and the Ministry of Agriculture, Marine Resources and Local Government," said Mr Moss.

By Gladstone Thurston
Bahamas Information Services