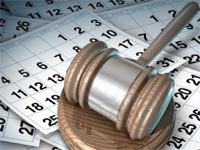 The trial of Prince Hepburn was put on hold for a second time.
Hepburn, a self-employed building contractor, is accused of the murder of his girlfriend, Nellie Mae Brown, on April 7, 2011.
Justice Indra Charles could not honor Hepburn's initial August 27 trial date because she was hearing another case.
She rescheduled the matter to October 1. At the time, she was optimistic that the John Bull armed robbery trial, which has been ongoing since May, would finally be completed. However, the trial is expected to last another month.
At least 15 trials have been displaced by the case, which was originally expected to last two weeks, according to sources.