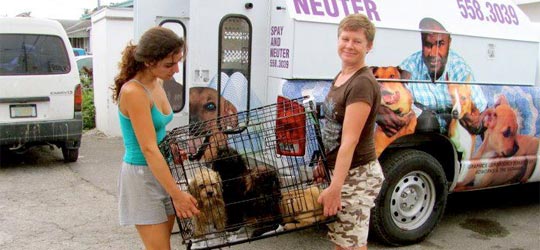 NASSAU, Bahamas – Operation Potcake principals today announced that Sandals Royal Bahamian has donated eight rooms to house members of the visiting international Vet team when they arrive in January for the beginning of the nation's largest spay and neuter programme, Operation Potcake.
Kim Aranha president of The Bahamas Humane Society (BHS) and Laura Kimbel president of The Bahamas Alliance for Animal Rights & Kindness (BAARK,) said local Vets participating in the free spay and neuter programme for ten days in January will be assisted by the visiting veterinarian team. "Sandals has offered eight guest rooms to assist us in their time here in The Bahamas; we are most grateful," said Kim Aranha.  "It is very exciting and gratifying to see all the animal groups, Vets and now corporate sponsors join together and pull in the same direction for the good of the country and the animal population."
Operation Potcake will be active for ten days in January. It is an island-wide spay and neuter programme that seeks to improve the lot of the country's roaming stray and owned animal population – it will decrease the number of unwanted offspring that wonder our streets.
Dr. Valentino Grant of the Palmdale Vet Clinic who is participating in the programme said, "It is great to see all the groups, agencies and personnel who have been championing the rights and welfare of animals in New Providence for all these years…. come together for such a worthwhile cause.  "We are looking forward to this campaign and the cooperation of the general public."
Laura Kimble, president of BAARK said, "We all need to help The Bahamas Potcake regain its nobility of breed and once again become a national pet we all care about. We need to change the view tourists have of us as inhumane where animals are concerned.  The Ministry of Tourism, cab drivers and hotel front desks get many guest complaints about the number of pitiful, stray and sick animals roaming the streets. Operation Potcake should go a long way in improving visitor perception about how we care for our animals."
About Operation Potcake
Operation Potcake is a ten-day, high-volume spay and neuter programme to be held on New Providence in January 2013. Volunteers from across the globe, organized by Animal Balance of Bend, Oregon, will be joining with local organizations and veterinarians to spay and neuter in the vicinity of 2,000 animals. It is immediately followed by a new five-year plan to offer affordable spay and neuter operations for owned pets to help reduce the number of stray offspring in the country.
The Ministry of Agriculture and Marine Resources and The Ministry of Tourism is supporting the programme and the private sector animal welfare non-government organizations (NGOs): The Bahamas Humane Society (BHS), The Bahamas Alliance for Animal Rights & Kindness (BAARK), The Veterinary Medical Association of The Bahamas, Proud Paws, Animals Require Kindness (ARK) and Pink Potcake. The general public is encouraged to volunteer their time, supplies or a donation during the ten days of Operation Potcake. http://www.operationpotcake.com/volunteer/
By Serena Williams Media & PR